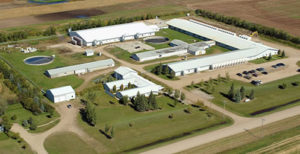 Prairie Swine Centre's Contract Research Program offers corporations and associations the Centre's expertise and access to its facilities to conduct research and development on their own products. Prairie Swine Centre Staff are GLP/GCP Trained certified.
Participating companies determine their own research needs and research protocols for experiments are developed. All studies are conducted in a confidential manner following typical commercial swine management practices unless specified in the protocol. Only two limitations exist: the research must not violate the laws of Saskatchewan and Canada and the protocol must not compromise the well-being of the animals involved.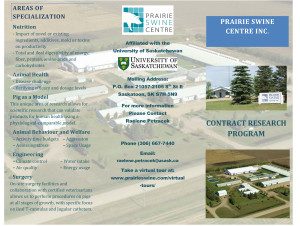 The Contract Research Program at Prairie Swine Centre also offers clients the opportunity to conduct studies applying the highest standards of study conduct – Good Laboratory Practices (GLP), Good Clinic Practices (GCP) and Good Manufacturing Practices (GMP).
Applying such standards is desired or sometimes required by the U.S. Food and Drug Administration, Health Canada, and the Canadian Food Inspection Agency in order to register drugs, hormones and feed additives and other products intended to be used in meat-producing animals. The program staff has a combination of education, training and experience required to comply with these very stringent standards and regulations.
The Contract Research Program also counts on the specialized support of on-site scientists in the areas of ethology, nutrition, reproduction, engineering, and production management.
Prairie Swine Centre's facilities are diverse and well equipped, thus making it possible to conduct research ranging from basic and intensive to very practical and commercial. The program's capabilities include, but are not limited to:
Animal performance trials
Preference and palatability studies
Determination of nutrient digestibility
Vaccine antibody responses
Evaluation of carcass modifiers
Use of vascular and gastrointestinal tract cannulations
Measurement of carcass characteristics and pork quality traits
Equipment development and evaluation
"We conduct contract research on behalf of corporations or associations in a professional environment designed with their needs and interests in mind"
For more information on the Contract Research Program, and how it can benefit your organization, please contact:
Raelene Petracek – Research Assistant, Contract Research Services
Phone (306) 667-7440, Fax (306) 955-2510