Canadian Hog Journal Spring 2017
Articles in the Spring 2017 Canadian Hog Journal Include: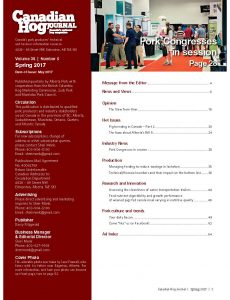 Hot Issues: Pig Breeding in Canada, The Buzz About Alberta's Bill
Breeding trends and new technology are discussed such as gene editing using CRISPR.
Bill 9 – Marketing of Agricultural Products Amendment Act allows agriculture commissions hold a plebiscite to decide whether they want their levies to be refundable or not.
Industry News: Pork Congress in Session
Pork congresses are being held in Alberta and Ontario.
Production: Managing Feeding to Reduce Wastage in Lactation, Technical/Financial Numbers and their Impact on the Bottom Line
Feed is the largest cost in pork production. A modified feeding system was created to provide fresh feed without purchasing an electronic feeding system. Electronic and modified feeding systems save costs by reducing feed waste.
To have a good evaluation of performance, knowledge of your technical/financial performance is needed. More attention needs to be paid to nursery, grower and finish performance.
Research and Innovation: Assessing Cleanliness of  Swine Transportation Trailers, Feed Nutrient Digestibility and Growth Performance of Weaned Pigs Fed Canola Meal Varying in Nutritive Quality
Transportation of pigs is a significant risk for disease transmission. ATP bioluminescence can be used to rapidly assess how clean surfaces are in trailers so that corrective actions can be made. The floors of the trailers were the least clean of all areas tested.
Soybean meal can be an expensive protein source. Canola meal can replace this up to 20% inclusion without affecting performance. Growth performance may vary along with quality differences of canola.
Pork Culture and Trends: Your Daily Bacon, Come Like us on Facebook!
Swine legends are told with photos of bacon memes included.
Canadian Hog Journal has a Facebook page.
Spring-2017 (full journal)