Canadian Hog Journal Banff 2017
Articles in the Banff 2017 Canadian Hog Journal Include: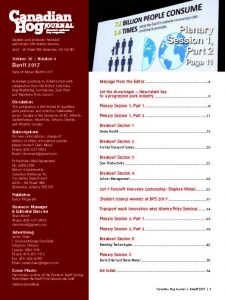 Sustainable Intensification – Depleting Natural Resources
In order to have sustainable systems, the five fundamentals are needed. These include financial, animal welfare, food safety, worker availability and well-being and environmental.
Animal Protein's Challenging Role in Feeding a Hungry Planet
Producing food has the largest impact on the environment. Demand for meat is only increasing and more sustainable measures are needed.
Swine Health: Preparedness for a Foreign Animal Disease, Modeling the Transboundary Survival of Foreign Animal Disease Pathogens in Contaminated Feed Ingredients
Prevention is the first step to preparing for a foreign animal disease, followed by early detection and response plans.
Foreign animal diseases were identified that could be risks to North America. Vehicles for introduction could be through contaminated feed transport.
Animal Transport Issues: Minimizing Challenges Caused by Animal Rights Groups
Have a code of conduct, hire the right people, train and retain, establish a reporting system, document problems and focus on transport.
Sow Productivity: Farrowing Room Management, Determinants of Lactation Success in Primiparous Sows
Focused management on the farrowing barn, room and crate support improved health, welfare and growth production outcomes for piglets and weaned pigs.
Culling of gilts following a poor first lactation is an economic drain for producers. Preparing the gilt for a successful first lactation will benefit performance in subsequent parities.
Labour Management: Changing Landscape of Agricultural Labour
Influences and issues that impact agricultural employment are explored.
Transport Wash Innovation Wins Aherne Prize Seminar
Blue Water Wash of Blumenort, Manitoba accepted the award for the company's new innovative heavy equipment undercarriage wash.
Changing the Conversation
Negative perception of brands can be changed.
Winning the Battle of Public Misconception About Food
Genetic modification is a new technology that the public are concerned about. The public needs to be educated to show that this is a beneficial technology.
Breeding Technologies: Current Strategies and Technologies for Reproductive Management of Gilts and Sows, Application of Sexed Sperm in Pig Production, Editing the Genome for PRRSV Resistance
Technologies to increase the precision of pig reproduction are becoming more widely available. These technologies are further discussed.
As sorting capacity improves, commercial application of sexed sperm is expected to increase. Fast Genetics explains sex sorting using flow cytometry.
Porcine Reproductive and Respiratory Syndrome Virus may be mitigated by gene editing to delete the protein responsible for infection.
Is Re-Tooling over, or Just Beginning?
Demand can make or break a market. In order to get a clear picture of the demand, the price must be combined with the consumption
Banff 2017 (full journal)