Western Hog Journal Winter 2016
Articles in the Winter 2016 Western Hog Journal Include: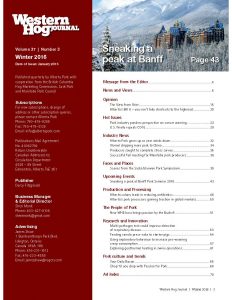 Hot Issues: Pork Industry Ponders Perspective on Cancer Warning, U.S. Finally Repeals COOL
A report states that red meats and processed meats have been linked to cancer, mainly colorectal, prostate and pancreatic cancers. Recommendations include having processed meats once a month and decreasing intake of red meats.
Mandatory Country of origin labelling (COOL) provisions have been repealed. This will help with renewed investment in Canadian swine production.
Industry News: Alberta Pork Gears Up, Olymel Shipping More Pork to China, Producers Sought to Complete Stress Survey, Successful Fall Meeting for Manitoba Pork Producers
Pork and agriculture events and meetings have kept the Alberta swine industry busy. A bill was passed to protect farm worker safety.
The Red Deer Plant is the largest hog processing operation in Alberta. Modifications to processing are helping Olymel sell whole hog heads to China.
More responses are needed to the survey for a Guelph study on the stress agricultural producers in Canada endure. It can be completed online and take 15 minutes to do.
Prices are beginning to collapse going into the end of the year. A presentation on moving away from antibiotics was well-received. Truck washing regulations were discussed.
Production and Processing: Alberta Colony Leads in Reducing Antibiotics, Alberta's Pork Processors Gaining Traction in Global Markets
Adopting enzymes and bio-based feed supplements is helping eliminate antibiotic use in Spring Creek. Investing more into feed can help get more profit from each pig.
The Alberta Pork Export Market Development Program (APEMDP) allows Alberta-based pork processing plants to grow their international efforts.
Research and Innovation: Multi-Pathogen Test Could Improve Detection of Respiratory Disease, Feeding Canola Press-Cake to Starter Pigs, Using Exploratory Behaviour to Increase Pre-Weaning Creep Consumption, Exploring Geothermal Heating in Swine Operations
User-friendly tools to identify 8 major porcine respiratory disease complex pathogens in a single reaction are being developed.
Canola press-cake could be a source of energy and protein in pig diets. This can replace soybean meal without detrimental effects on growth performance.
Enrichment and different tray feeders were investigated to see if they affected creep feed intake. A large tray feeder is most effective as it encourages social behaviour and foraging.
Energy prices continue to rise so new technologies are needed. Energy consumption was reduced by geothermal heating systems with less methane and carbon dioxide present.
Pork Culture and Trends: Your Daily Bacon, Chop 'Til You Drop
Why everyone loves bacon
Several provincial events are helping Alberta-grown pork remain popular.
Winter-2016 (full journal)