Western Hog Journal Fall 2016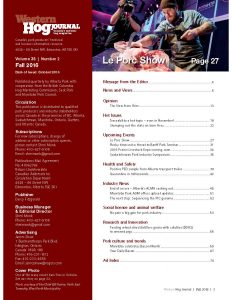 Articles in the Fall 2016 Western Hog Journal Include:
Hot issues: Traceability, Barn Fires
Public want insight on the source of their food
Pig barns are very difficult to evacuate in case of fire due to difficulty in moving animals and large volume of animals. With barn fire incidences increases, make sure your barn is inspected with safety precautions installed.
Health and Safety: Positive PED Sample from Alberta Transport Trailer, Quarantine in milliseconds
This truck tested positive after travelling from the US to Alberta. Livestock trailers are one of the main carriers for the PED virus. Cleaning needs to be done properly in order to decrease the risk of this happening again.
Fast outbreak management and protection of herd health can be provided with new biosecurity systems using smart phone apps, GPS technology and powerful software. Halting disease outbreaks can be done through 'Be Seen, Be Safe' and protecting herd health through 'Farm Health Monitor' can be done.
Industry News: Alberta's ALMA Cashing Out, Manitoba Pork AGM Updates, Sequencing the PIC Genome
The demise of the Alberta Livestock and Meat Agency (ALMA) was due to a cut in government funding. This affects many industries and institutions as the funding helped with many initiatives including research, food safety, environmental sustainability and more.
Pork prices are good as they are priced in U.S. dollars and the Canadian dollar is low. Manitoba is generally number 1 in producing baby pigs in Canada. Trade advocacy with the U.S. is continuing and efforts to inform the public about pig farming are continuing.
Genomes of 14,000 pigs are being sequenced. This will help with genetic improvement to advance pig production.
Social Licence and Animal Welfare: Big Gain for Pork Industry
New requirements for pain management have been implemented so that castration and tail docking at any age requires analgesics. This addresses the post procedural pain, not the pain during the procedure. NSAIDs are used in Canada, with meloxicam being popular.
Research and Innovation: Feeding Wheat Dried Distillers Grains with Solubles (DDGS) to Weaned Pigs
DDGS is the product that is leftover after fermenting cereal grain. Feed intake for weaned pigs was consistent throughout the trial. This can replace soybean meal and should be introduced into weaned pig diets by stepping up inclusions progressively by growth phase.
Pork Culture and Trends: Manitoba Celebrates Bacon Month, Your Daily Bacon
Bacon is very popular, with it bolstering the economy and creating jobs in Manitoba. Bacon month was celebrated in August
Pigs have been in pop-culture throughout history. Stories about pigs through history are provided.