Western Hog Journal Summer 2016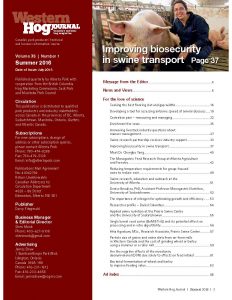 Articles in the Summer 2016 Western Hog Journal Include:
Science:
Seeking the best flooring slat and gap widths
Guidelines are being developed to select and design slatted flooring in group sow housing to improve sow comfort and health while maintaining ease of manure removal.
Developing a tool for assessing airborne spread of animal diseases
Less is understood about airborne transmission of diseases and they are much harder to control. An assessment tool is being developed to help make eradication and control decisions if an outbreak occurs.
Castration pain – measuring and managing
Prey species, such as pigs, hide pain well to avoid predators. Piglet facial expression and changes in body posture can be used to identify pain. After quantifying the pain, proper pain management can be provided.
Enrichment for sows
Sows may have different preferences in types of enrichment compared to piglets and growing pigs. Different types are being studied to see what the most beneficial type of enrichment is in sows.
Answering livestock industry questions about manure management
Solutions regarding manure management concerns are discussed with Manitoba Livestock Manure Management Initiative.
Swine research partnership receives industry support
The Prairies Swine Centre and the University of Saskatchewan has secured funding for a comprehensive swine welfare research initiative.
Improving biosecurity in swine transport
After the spread of PEDv in 2014, swine biosecurity was evaluated for problems. Many of these are related to trailers. Improving trailer design and automated cleaning will help stop the spread of disease.
Meet Dr. Chengbo Yang
The newest animal scientist at the University of Manitoba in the Livestock Nutrition and Nutritional Biochemistry in the Department of Animal Science.
The Monogastric Feed Research Group at Alberta Agriculture and Forestry
They conduct monogastric feed research on nursery and growing-finishing pigs. Current trials involve feeding camelina cake to these groups of pigs.
Reducing temperature requirements for group-housed sows to reduce cost
Sows can interact with and control their thermal environment better in group housing. The lower critical temperature may be lower when in group housing which can reduce costs.
Swine research, education and outreach at the University of Alberta
Research involving reproduction, animal health and welfare, pork quality, reducing feed cost, nutrient efficiency and biomedical research are being completed.
Denise Beaulieu, PhD, Assistant Professor Monogastric Nutrition, University of Saskatchewan
Research she is involved in includes sow feed and how it affects milk production and the nursing piglet, inflammatory response and dietary factors in piglets and use of low quality feeds.
The importance of nitrogen for optimizing growth and efficiency
Non-protein nitrogen can be used for body protein deposition and growth when diets are limited in total nitrogen or essential amino acids. Total dietary nitrogen supply is an important consideration in reduced-protein diets.
Researcher profile – Daniel Columbus
Research associate in nutrition at the Prairie Swine Centre focusing on nutrition and pig health, early life nutrition and long-term growth and the use of novel feed ingredients.
Applied swine nutrition at the Prairie Swine Centre and the University of Saskatchewan
Objectives are to increase net income for producers through improved nutrition, , reduce the environmental footprint, improve animal wellbeing and using the pig as a model for human health.
Single kernel seed sorter (BoMill TriQ) and its potential effect on processing and in vitro digestibility
This seed sorter uses near infrared transmittance to sort kernels of wheat, durum and barley based on crude protein to have samples with a homogenous protein content and can be used in a commercial setting.
Atta Agyekum, MSc., Research Associate, Prairie Swine Centre
Research associate in nutrition, researching developing low-cost feeding strategies for group-housed gestation sows.
Particle size of grains and swine diets from on-farm mills in Western Canada and the cost of grinding wheat or barley using a hammer or a roller mill
Reduced particle size in wheat and barley-based diets improves feed efficiency when at 550 microns which results in a reduced total feed cost.
Are the negative effects of the mycotoxin, deoxynivalenol (DON) due solely to effects on feed intake?
Using DON-contaminated diets with and without spray-dried bovine plasma, feed intake is being monitored in order to seperate DON feed intake effects from other possible effects.
Bacterial fermentation of wheat and barley to improve feeding value
Research is being completed on whether fermented grains improve feed intake and growth and can be explained through gut function or morphology.
Summer-2016 (full journal)