Canadian Hog Journal Winter 2018
Articles in the Winter 2018 Canadian Hog Journal Include: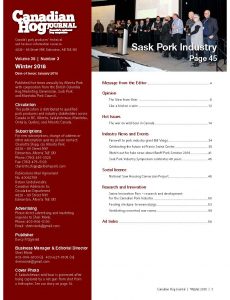 Hot Issues: The War on Wild Boar in Canada
Wild boar is present in Saskatchewan and continues to reproduce. Genetics of the wild boars is being collected, as hybrids with domestic and wild boars seem to have higher reproductive rates. They can damage ecosystems and are huge biosecurity issues. Entire sounder groups must be removed to help with this issue.
Industry News and Events: Farewell to Pork Industry Giant Bill Vaags, Celebrating the Future at Prairie Swine Centre, Watch Out for Fake News About Banff Pork Seminar 2018, Sask Pork Industry Symposium Celebrates 40 Years
Bill Vaags devoted a significant part of his life to advance the interests of Canadian pork producers. He passed away in September at the age of 82. He has achieved many accomplishments over the years and he will be missed.
Prairie Swine Centre had its 25th anniversary in 2017 and is changing CEOs. Lee Whittington's advice is issues, not disciplines, will engage your client, an industry-driven mandate keeps research connected to the customer, professional management frees researchers to do what they do best, be a catalyst – share facilities and collaborate, develop people who will make a difference, have a global vision plus a big hairy audacious goal and to quantify the benefits to your stakeholder.
The Banff Pork Seminar is discussed.
The 40th Saskatchewan Pork Industry Symposium was in November 2018. Awards were given to those working for 40, 50 and 60+ years.
Social Licence: National Sow Housing Conversion Project
The National Sow Housing Conversion Project will help facilitate the conversion to group housing. The results are on www.groupsowhousing.com.
Research and Innovation: Swine Innovation Porc – Research and Development for the Canadian Pork Industry, Feeding Chickpea to Weaned Pigs, Ventilating Converted Sow Rooms
Swine Innovation Porc is a not-for-profit national organization that facilitates and coordinates research to increase profitability and long-term success for the swine industry. Some current research is discussed.
Replacing 10% soybean meal and 5% wheat grain with 15% chickpea increased feed intake and weight gain of weaned pigs. Chickpea can be a cheaper alternative and should be introduced by phase feeding.
Ventilation for group sow housing has different requirements as there are less animals in the room. Using the existing ventilation will over-ventilate, using extra fuel and chilling the animals. The horizontal flow ventilation system was the most effective.
Canadian Hog Journal – Winter 2018 (full journal)