Canadian Hog Journal Fall 2018
Articles in the Fall 2018 Canadian Hog Journal Include: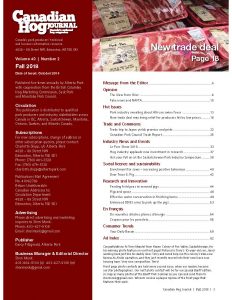 Hot Issues: Pork Industry Sweating about African Swine Fever, New Trade Deal May Bring Relief for Producers Hit by Low Prices
African Swine Fever is now spreading throughout China, Eastern and Western Europe. Producers should be hyper-vigilant towards farm biosecurity to keep it out of North America.
The United States-Mexico-Canada Agreement was signed.
Trade and Commerce: Trade Trip to Japan Yields Promise and Pride, Canadian Pork Council Trade Report
The trans-Pacific Partnership was signed. The Canadian meat quality is wanted in Japan, with Verified Canadian Pork stickers now on our products.
September monthly trade report is included.
Industry News and Events: Le Porc Show 2018, Hog Industry Applauds New Investment in Research, Get your Fall on at the Saskatchewan Pork Industry Symposium
Le Porc Show in Quebec City is in December.
Up to $18.5 million dollars will be invested over the next five years by the federal government to further develop the Canadian pork industry.
Saskatchewan Pork Industry Symposium in Saskatoon is in November.
Social Licence and Sustainability: Enrichment for Sows – Increasing Positive Behaviour, Dear Trace E. Pig
Loose straw is the most preferred enrichment, followed by rotating multiple enrichments, rope then wood. Dominant sows often have more access to enrichments and to reduce social aggression, multiple enrichments should be provided.
Questions are answered about registering with Alberta Pork.
Research and Innovation: Feeing Field Peas to Weaned Pigs, Pigs and Space, Effective Water Conservation in Finishing Barns, Enhanced DDGS Aims to Perk up the Pigs
Feeding nursery pigs up to 40% field peas can replace up to 30% soybean meal and 10% wheat without reducing growth performance. This can aid in reducing feed costs.
Space allowance for nursery pigs matching the 2014 Code of Practice with k=0.0335 is adequate and should not be less or behavioural problems, welfare issues and reduced gains will be seen.
Compared to nipple drinkers, a trough with side panels and an integrated nipple drinker reduces water wastage in finishing barns. A reduction in manure is also noted.
Distillers dried grains with solubles is a co-product of ethanol production and can provide energy and amino acids while reducing feed costs, but it has a high fibre content. A high protein, low fibre version is being produced.
En Francais: De Novelles Dreches Pleines D'Energie, L'Espace pour les Porcelets
Les distillateurs de grains séchés avec solubles sont un coproduit de la production d'éthanol et peuvent fournir de l'énergie et des acides aminés tout en réduisant les coûts d'alimentation, mais ils ont une teneur élevée en fibres. Une version riche en protéines et faible en fibres est en cours de production.

L'espace alloué aux porcs de nurserie correspondant au code de pratiques 2014 avec k = 0,0335 est suffisant et ne devrait pas être moindre ou des problèmes de comportement, des problèmes de bien-être et des gains réduits seront constatés.
Consumer Trends: Your Daily Bacon
Pork related recipes are discussed.
Canadian Hog Journal – Fall 2018 (full journal)