Canadian Hog Journal Summer 2018
Articles in the Summer 2018 Canadian Hog Journal Include: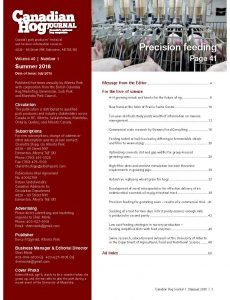 For the Love of Science:
4-H Growing Minds and Hearts for the Future of Ag
4-H involvement often leads to a career in agricultural science.
New Hand at the Helm of Prairie Swine Centre
Murray Pettitt is the new CEO of the Prairie Swine Centre.
Ten-Year Old Field Study Yields Wealth of Information on Manure Management
Many aspects of nitrogen and phosphorus fertility were discovered in this study.
Commercial Scale Research by Gowans Feed Consulting
Commercial research is being done in the grow-finish and nursery barn.
Feeding Hulled or Hull-less Barley Differing in Fermentable Starch and Fibre to Weaned Pigs
Barley may replace wheat grain for weaned pigs to increase profit without affecting performance. It can improve gut health by acting as a prebiotic.
Optimizing Concrete Slat and Gap Widths for Group-Housed Gestating Sows
Slatted floor gap widths are important as feet lesions and lameness are more prevalent for certain widths. A narrower concrete slat (105 mm) and gap (19 mm) benefit feet health and sow comfort.
High-Fibre Diets and Immune Stimulation Increase Threonine Requirements in Growing Pigs
During immune challenge in pigs, the threonine requirement increased. Fibre and immune stimulation interactive effects were examined.
Hybrid Rye Replacing Wheat Grain for Hogs
Hybrid rye can replace wheat grain for hogs without affecting performance. Weight gain improved with feed NSP enzymes.
Development of Novel Microparticles for Effective Delivery of and Antimicrobial Essential Oil to Pig Intestinal Tract
Essential oils such as thymol can be delivered to the intestinal tract using the  novel microencapsulation technique that is affordable and simple to practice.
Precision Feeding for Gestating Sows – Results of a Commercial Trial
Conventional feeding and precision feeding are compared. Multiparous sows can have reduced lysine to reduce costs. Gilts performance may increase with precision feeding.
Suckling of a Teat for Two Days in First Parity Ensures Enough Milk is Produced in Second Parity
In order to not affect milk production in the second parity, suckling of a teat needs to be done for two days.
Low Cost Feeding Strategies in Nursery Production – Feeding Simplified Diets with Feed Enzymes
Average daily gain was similar for the simple diet versus the conventional complex one.  The simple diet showed greater feed efficiency while the complex one had superior growth in the first week. Multicarbohydrase improved feed efficiency in both groups.
Swine Research, Education and Outreach at the University of Alberta in the Department of Agricultural, Food and Nutritional Science
Research includes topics of enhancing animal health and welfare, pork quality, reproduction, reducing feed cost, nutrient efficiency, sustainability and biomedical research with the pig as a model.
Summer-2018 (full journal)