Canadian Hog Journal Spring 2018
Articles in the Spring 2018 Canadian Hog Journal Include: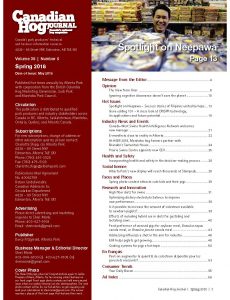 Hot Issues: Spotlight on Neepawa – Success Stories of Filipinos United by Hope, Gene Editing 101 – A Close Look at CRISPR Technology
Filipinos who have moved to Neepawa, Manitoba to work at Hylife Foods hog processing plant are doing well
Gene editing allows precise changes to be made in the genome. It can be used to improve productivity, welfare and hardiness. CRISPR is one of the techniques used.
Industry News and Events: Canada-West Swine Health Intelligence Network Welcomes New Manager, E-Manifests Close to Reality in Alberta, At AGM 2018, Manitoba Hog Farmers Partner with Brandon's Samaritan House, Prairie Swine Centre Appoints New CEO
The new manager at Canada-West Swine Health Intelligence Network is Dr. Jette Christensen, DVM, PhD.
Alberta Pork is launching a digital e-manifest system for traceability. It will reduce costs, is easy to use and is more eco-friendly.
Highlights of the Annual Banquet were two Pork Industry Awards and the presentation of one tonne of pork sausage to the Samaritan House Ministries in Brandon, Manitoba.
Dr. Murray Pettitt is the new CEO of the Prairie Swine Centre.
Health and Safety: Incorporating Health and Safety in the Decision-Making Process
Prairie Swine Centre is collaborating with the Canadian Centre for Health and Safety in Agriculture to evaluate the safety of new technologies, such as needle-less injectors.
Social Licence: Alberta Pork's New Display will Reach Thousands at Stampede
The display includes a live sow and piglets in a weaner pen along with an informational slideshow and video.
Faces and Places: Spring Photo Contest Attracts Cute Kids and their Pigs
Contest for the cover of the fall edition is accepting submissions.
Research and Innovation: High Fiber Diets for Swine, Optimizing Dietary Electrolyte Balance to Improve Sow Performance, Is It Possible to Increase the Amount of Colostrum Available to Newborn Piglets?, Effects of Including Hybrid Rye in Diets for Gestating and Lactating Sows, Feed Preference of Weaned Pigs for Soybean Meal, Brassica napus Canola Meal or Brassica juncea Canola Meal, Addressing Influenza a Shot in the Arm for Industry, EGF Helps Piglets Get Growing, Cooling Systems for Pigs a Hot Topic
Conventional feedstuff prices are rising so other resources are looked at, with most being fibrous in nature. Fibre reduces the DE content which may reduce growth rate. Performance and intestinal health may be affected so be sure to take cautionary measures. Fibre may be beneficial in the gestating sows as their aggression related to hunger may decrease.
Dietary electrolyte balance manipulation is often used in dairy, but is beneficial in sows as well. Higher electrolyte imbalance will increase the calcium in her bones and is good during lactation, while a lower imbalance during farrowing will cause the sow to mobilize the calcium.
One injection of oxytocin in the 12 – 20 hours after farrowing can prolong the colostral phase. This improves milk quality in early lactation.
Using 60% rye in gestation and 35% in lactation required adjustments to feeders but did not have an effect on litter size, farrowing rate, milk yield and sow durability.
Weaned piglets prefer soybean meal over canola meal, with Brassica juncea canola meal being the preferred type. Lower preference did not affect performance so canola meal can be used as an alternative.
There are many viruses circulating around that can cause influenza in pigs. Working with a vet is the best way to handle this as vaccination protocols do not cover all of the strains that are evolving.
Epidermal growth factor is produced in the sows milk, but early weaning means less exposure to this for the piglets. This slows development and growth. EGF is being produced naturally using yeast and once approval has been given, it may be widely available.
Most transport trailers do not have a cooling system in place, which can lead to death of pigs in hot temperatures. A water misting system along with mechanical ventilation could be the solution.
En Francais: Peut-on Augmenter la Quantite de Colostrum Disponible pour les Porcelets Naissants?
Une injection d'ocytocine dans les 12 à 20 heures suivant la mise bas peut prolonger la phase colostrale. Cela améliore la qualité du lait en début de lactation.
Consumer Trends: Your Daily Bacon
Pig idioms are discussed along with a few memes.
Spring-2018 (full journal)