Canadian Hog Journal Banff 2018
Articles in the Banff 2018 Canadian Hog Journal Include: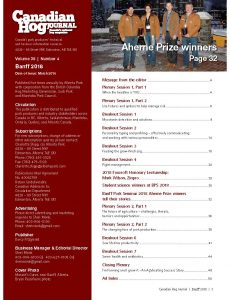 Use Futures and Options to Help Manage Risk
Producers need a plan for when prices change. Looking at charts can help see trends in prices.
Mycotoxin Detection and Solutions
A crop survey on mycotoxins is discussed. Two products of fusarium fungi that are concerning are deoxynivalenol and zearalenone toxins. Sampling technique is crucial in monitoring mycotoxin levels.
Personality Typing and Profiling – Effectively Communicating and Working with Various Personalities
Determining and grouping personality types in a workplace is important. A questionnaire can be used to do this.
Feeding the Grow-Finish Pig: The Challenges and Future of Balance, Recent Developments in Nutritional Programs for Wean-to-Finish Pigs
Producers must estimate the nutrient availability of the feed precisely along with the amount of nutrients needed per growing period and formulate balanced diets limiting excess nutrients, then adjust the dietary nutrient supply to match the estimated requirements for the animal.  Two methods are used to do this, factorial and empirical. Precision feeding will likely be in the future for improving nutritional efficiency.
Lysine is an essential amino acid but is used in smaller amounts compared to earlier years, but still increasing amounts as the pigs age. This does not change the growth performance.
Piglet Management: Nutrition to Support Healthy Weaned Pigs, A 10,000 Startup in Mexico 
A healthy feed intake is needed to have viable healthy piglets. The earlier this occurs, the better the outcome to reduce pathogen risk and nutritional hypersensitivity while increasing the ability to absorb nutrients. Prebiotics, acidifiers and phytogenics may be useful.
Due to the PED outbreak, Mexicos' production of pigs has been remodelled to include the latest in biosecurity. A successful startup was built, implementing great planning and coordination.
The Future of Agriculture – Challenges, Threats, Barriers and Opportunities
The major challenges involve social license.  The opportunities include communication opportunities, confrontational strategies and competitive options.
The Changing Face of Pork Production
Pricing, packing capacity, cost of production, productivity increases , evolution and demand are discussed.
Sow Lifetime Productivity: Impacts of Lameness, Longevity and Inflammation, Artificial Insemination Management to Optimize Sow Productivity
Lameness is the leading cause of culling sows. Encouraging healthy horn production will help decrease this. This includes claw trimming and adding minerals to diets.
Boar fertility is assessed by compensable and uncompensable traits. Post-cervical artificial insemination increases the insemination efficiency by reducing the amount of sperm needed.
Swine Health and Antibiotics: Canada's Industry and Regulatory Framework: An Ongoing Policy Inactive to Enhance Responsible Use of Veterinary Antimicrobials with Dr. Egan Brockoff, Raised Without Antibiotics, Analyzing Impact to Biologic and Economic Performance with Clayton Johnson, Transition to Antibiotic-Free: Tips and Tricks with Greg Wideman
The six policy pillars for antimicrobial oversight include Own Use Importation, Growth Promotion Claims, Increased Veterinary Oversight, Sales Tracking System, Veterinary Active Pharmaceutical Ingredients and Veterinary Health Products. These are discussed.
All antibiotic use contributes to antibiotic resistance. Most producers can market 75-85% of the used as raised without antibiotics. Collaborations between veterinarians, geneticists and nutritionists with the raised without antibiotic program is needed.
Tips on transitioning to antibiotic free farming are listed. The key is communication. This involves collecting the data to compare the changes introduced on the system.
I'm Farming and I Grow It – An AgVocating Success Story
Greg Peterson and his brothers created social media platforms to communicate with the public and educate them about agriculture.