Better Pork August 2016
Articles in the August 2016 Better Pork Include: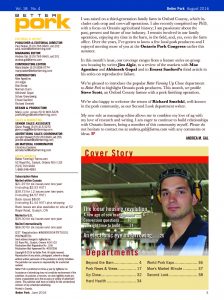 Beyond the Barn: Social (Ag)Media, Bacon Critic Wanted, New Tech to Ensure Manure Pit Safety, The Loose Housing Revolution
Many producers are on social media. Accounts about agriculture are listed.
A breakfast website, Extra Crispy, is looking for an American to become their bacon critic
A website tool has been created to help confined-space manure storage pit design stay safe for entry by letting the producer know how long it should be ventilated to be safe of toxic gases.
Challenges and questions regarding group housing are discussed.
Pork News and Views: Back to the Basics of Feeding Pigs, Water Line Maintenance, Pain Control for Castration and Tail Docking Required, Swine Budget June 2016, An Electronic Eye on Farrowing, Time Out for the Heaviest Sucklers, Swine Production: European Performance, Women in Britain's Pork Industry Promote the Bacon, An Oil Change for Sows Reduces Weight Loss
Laboratory feed analysis is a more accurate feed analysis than using books. Laboratory terms are explained.
A water cleaning program should be in place to help with water line maintenance and providing clean water to ensure the best health of the herd.
Tail docking and neutering are painful procedures and should be done with pain control. If given an analgesic before the procedure, pain control will be provided throughout and after the procedure.
The swine budget for June 2016 is provided.
The LISA2 logging system is a data logger that can monitor sow and staff performance, resulting in an improved herd performance.
A timed-lock system keeps the heavier pigs away from the sow so the smaller piglets have a chance to access the udder.
Pork prices in Europe are still low but feed prices are also decreasing.
Ladies in PIGS are a group of women helping their farmers by promoting homegrown pork.
Sows often lose weight during suckling as their energy is used by producing milk. Conjugated linoleic oil lowers this loss by having the sow produce lower milk fat levels while not affecting piglet weight gain.
Up Close: Farming for the Generations
A third generation Oxford County farmer is interviewed.
Herd Health: Reproductive Failure from Noninfectious Causes
Noninfectious causes for reproductive failure include: a small number of fetuses that are aborted to hopefully have a higher number next time, high ambient temperatures, Autumn Abortion Syndrome, mycotoxins, other toxins and propane heaters and carbon monoxide poisoning.
World Pork Expo: Ontario Perspectives of World Pork Expo 2016
The World Pork Expo was in Iowa and is the world's largest pork-specific trade show.
Moe's Market Minute: Chinese Import Growth Shapes Hog Future
China's pork imports from the U.S. are expected to continue growing.
Second Look: Focus on Solutions Rather than the Problem
A set of goals lessens the problem and helps prioritize tasks so they can be accomplished one at a time.
Better Pork – August 2016 (full journal)