Better Pork October 2016
Articles in the October 2016 Better Pork Include: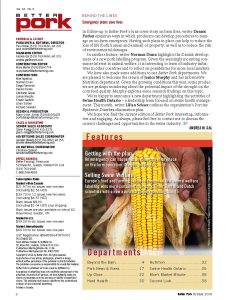 Beyond the Barn: Brewing a New Use for Pork, Canadian-Produced PED Vaccine in the Works, Social (Ag)Media: How to Cook Your Pork and Connect with Consumers, Getting With the Plan, Selling Swine Welfare
Flying Fish Brewery in New Jersey has a new beer that uses pork.
The University of Saskatchewan has developed a  prototype vaccine for Porcine Epidemic Diarrhea.
Pork consumption has had a slight increase over the past two years. Pork recipes are featured on Twitter accounts.
Ontario Soil and Crop Improvement Association has created emergency plans for farmers. Tips and resources for avoiding emergency situations are listed.
Danes are willing to spend more on meat that has higher welfare protocols. Labelling programs help give consumers a chance to pay for different levels of swine comfort.
Pork News and Views: Capturing Potential through Nutrition: Group Housed Gestating Sows, Addressing Some Myths Around Group Sow Housing, Ontario Animal Health Network (OAHN) Swine Producer and Industry Report #4, Swine Budget August 2016
Energy and protein requirements for gestating sows are discussed, along with feeding strategies to meet these requirements and other nutritional aspects of feeding group housed sows.
Some myths include aggression being a major problem, group housing being more expensive, sows in groups being less productive, all group systems are alike, mixing before 4 weeks gestation reduces litter size and conception rate and group housing being mandatory in 2024.
Ontario and Quebec are seeing an increase in Erysipelas. Information about this bacterial infection is provided.
The swine budget for August 2016 is provided.
Up Close: Education Goes Hand-in-Hand with Farming for this Clarington Couple
Durham Farm Connections was formed by Mary Ann Found and it does a high school program, an educational trailer for fairs and events and a yearly open house. Stan and Mary Ann Found built and opened an ag education barn for school tours. Stan is also in the local beef association and is the director of the Co-op.
Herd Health: Seneca Valley Virus Symptoms Mimic More Serious Foreign Animal  Diseases
Seneca virus is similar to a lot of other common porcine viruses and has been present in Canada in the past. Symptoms include vesicles, erosions and ulcers on the skin, coronary band at the hoof/skin junction on the feet and oral cavity. It prefers warm environmental conditions. It is often a mild illness but looks very similar to other diseases so precaution and diagnostic confirmation are needed when symptoms are present.
Nutrition: Drought Raises Questions About Energy Value of Corn
Corn is one of the most valuable crops worldwide. The drought caused much of North America's crop to suffer. The drought-stressed corn is very similar to typical corn in regard to physical and chemical characteristics and can be used in swine diets.
Swine Health Ontario: Group Aims to Establish PED Elimination Program
Swine Health Ontario is aiming to improve preparedness, prevention and response to significant swine health issues. One of their goals is to eliminate Porcine Epidemic Diarrhea from Ontario herds.
Moe's Market Minute: Swine Dining in 2017
Due to pork's lower prices, it seems to be replacing beef for consumers. U.S. hog inventory is still increasing along with export volume.
Second Look: Red Tape Awaits Todays Noah's Ark
Building a swine barn is viewed as similar to building Noah's Ark as there are lots of aspects to take into account.
Better Pork -October 2016 (full journal)