Better Pork December 2016
Articles in the December 2016 Better Pork Include: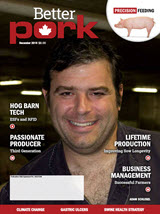 Beyond the Barn: Banff Pork Seminar Moves Mountains to Drive Attendance, Understanding PEDV Detection Methods, Holiday Gifts to Make You Squeal With Joy, The Computerized Hog Barn, Optimizing Sow Output with Longer Productive Lives
The theme for this years Banff Pork Seminar is "innovative and sustainable solutions for an evolving industry".
Shedding patterns of growing gilts exposed to PEDV were studied in order to find the best option to detect PEDV.
Bacon themed gifts are discussed.
Barns are becoming more computerized, allowing for better individual care of animals. Electronic sow feeders allow for individualized precision feeding programs which can save in costs of nutrients.
On average, sows in Europe produce 3 litters in their lifetime, increasing costs by having high replacement gilt rates. Certain areas like Germany produce 5 litters. Heritability for longer production life is used to select sows and management also has a large influence.
Up Close: Hog Farming as a Passion, Rather Than Simply a Job
Melissa Da Costa works on her family farm, Baseline Pork. She plans to share her passion of pigs with consumers.
Pork News and Views: Effect of Increasing Creep Feed Pellet Size on Piglet Performance Pre- and Post-Weaning, Swine Budget December 2016
When offered large pellets in the nursery and farrowing rooms, increased feed disappearance and weight gain were noted. The large pellets were also a form of enrichment as more time was spent playing with the pellets. In order to reduce feed waste, slat size should be small enough that the pellets cannot fall through.
The December 2016 swine budget is provided.
Herd Health: Fusobacterium gastrosuis: A New Bacterium Possibly Related to Gastric Ulcers in Swine
Grower-finisher pigs are more prone to having gastric ulcers. Not enough feed and finely ground feed are risk factors for increasing ulcer incidence. Fusobacterium gastrosuis may be the bacteria behind ulcers in swine.
Nutrition: The Impact of Precision Feeding on Feeding Behaviour of Grower-Finisher Pigs
Precision feeding is an alternative to phase feeding. It allows individualized feeding so that each pig meets their own nutrient requirements. It also reduces feed cost and nutrient excretion.
Swine Health Ontario: What is Swine Health Ontario and How Does it Impact the Province's Other Swine Organizations?
Swine Health Ontario is developing Ontario's swine health strategy, including planning, prevention, response plans, early detection, recovery and support systems and continual improvement. Eliminating Porcine Epidemic Diarrhea from Ontario is one of their current goals.
Agri-Food Management Institute: There's Money in Business Management Activities for Hog Farmers
Farm business management practices can lead to much better financial outcomes. Continuous learning is one of the drivers for farm financial success. Key financial decisions should be made based on an accurate financial picture of the business. The more profitable barns are 30% more likely to seek out professional business advisors or consultants as well. Other drivers include assessing and managing risk, having a formal business plan, knowing and monitoring cost of production and using budgets and financial plans.
Second Look: The Emperor Has No Clothes On
Several countries are considering a tax on greenhouse gas emissions from animals (a "fart tax"). Opinions about climate change are discussed.
Better Pork – December 2016 (full journal)