Better Pork June 2016
Articles in the June 2016 Better Pork Include: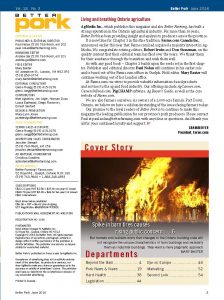 Beyond the Barn: Stratford Hope Bacon and Ale will Lure Shakespeare Buffs, PRRS Resistant Hog a 'Potential Game Changer", Turning Manure Mountains into Gold, Spike in Barn Fires Causes Rising Public Concern
Unique tastings of beer and bacon samples are available at many locations as a promotion for visitors in Perth County.
Genus plc has licensed gene-editing research that is expected to produce  porcine reproduction and respiratory syndrome resistant pigs.
Converting manure into more manageable mineral and soil conditioning products may help reduce pollution and cut back on synthetic fertilizers.
Options for preventing barn fires are discussed
Pork News and Views: Is 'Social License' Relevant to Pork?, Banff Pork Seminar – Optimizing Feed and Farm Management to Market Conditions, April 2016 Swine Budget
It's in producers best interest to stay up to date on social license. Monitoring these trends can help with future business.
Changing market conditions should be in mind when making management and feed decisions.
The budget sheet for April 2016
Herd Health: Reproductive Failure Caused by Bacteria
Different types of bacteria are discussed that can cause reproductive failure. Many are zoonotic so precautions should be in place to keep everyone safe.
Legislation: Updates Coming to Pig Code
Post-procedure pain in castration and tail docking needs to be mitigated with analgesics at any age of pig.
Eye on Europe: Antibiotic-Free Pork from Denmark Well Received in USA, Weaners Thrive on Liquid Feed Plus Straw Pellets, Dutch Welfare Group Calls for Limits on Litter Size, Dairy-Style Silage Ration Proves a Hit with Gloucestershire Old Spot Hogs
Danish Crown is providing bonuses to producers who can produce antibiotic-free pigs
Straw pellets provided encouraged extra feed intake and may have diverted aggressive behaviours.
The Netherland's Action Group Swine in Danger wants to limit litter sizes with extra pigs being fostered or artificially reared.
Low-cost hog rations can be made up of alfalfa sileage and homegrown peas and barley plus required minerals.
Marketing: Hog Futures Should Hit Their Seasonal High in Summer
Hog prices are matching the predictable seasonal pattern so far, with the seasonal high anticipated for June or July.
Second Look: Farm Succession Planning Should Start Sooner than Later
A strategy should be in place to successfully transfer knowledge, management, labour and ownership onto the next generation.
Better Pork – June 2016 (full journal)