Better Pork December 2018
Articles in the December 2018 Better Pork Include: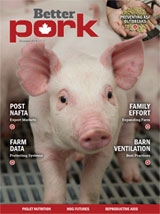 Beyond the Barn: Hot Tips for Cold-Weather Transport, Sourcing New Organ Donors, Putting the Best Hoof Forward
Bedding, low densities and temperature at loading and arrival are important. Lower densities are important to give pigs room to not touch the die of the truck in order to avoid frostbite. Monitor wind chill as well.
Pig organs may be used as donors for humans with new gene-editing technology. This will help reduce rejection rates of the donor organ.
Manure drainage is not affected by narrower slat and gap widths, but sow health is improved. Foot lesions are decreased in narrower gaps.
Keeping African Swine Fever Out of Canada
African swine fever is in Africa, Asia and Europe. It is one of the most severe pig diseases that is hemorrhagic, contagious, deadly and effects all age groups. Biosecurity is key, as the virus can spread through feed, shoes, vehicles and meat, including wild pigs. Import controls are in place to restrict it from coming to North America.
After NAFTA: What Now?
A new trade agreement has been reached, though many would have preferred to keep NAFTA how it was. This experience has shown how the Canadian market needs to be diversified so that it is not dependent on one country. Canada is now the third largest pork exporter, with the U.S. being the largest export destination.
Up Close: Sharing a Family Passion for Farming
Chris DeJong has a family-run pork and cropping business. They produce feed for the pigs at Knollcrest Swine, and have been expanding their faming business over the years to include cattle as well.
Herd Health: Reproductive Tools: Uses and Benefits
Reproductive aids can be used to manipulate the breeding window, but ensure safety precautions are taken around these substances and that administration instructions are followed. Altrenogest, gonadotrophins, Cloprostenol and oxytocin are all discussed.
Nutrition: Reducing Post-Weaning Diarrhea in Piglets
Scouring is a concern in weaned piglets. They are caused by several factors, one being a weakened immune system due to weaning stress. Nutritional strategies can be used to improve gut health and reduce scours at weaning. Protein, fat and enzyme choices are discussed along with feed additives and feed processing conditions.
Pork News and Views: High Mycotoxins Present in 2018 Corn Crop, Benchmarking: Are You Timing Your Sprints?, Enrichment for Nursery Pigs, African Swine Fever; Pig and Pork Exports, Swine Budget – October 2018
19% of growers samples of corn had deoxynivalenol (DON) levels greater than 5 ppm. Mycotoxins are often distributed unevenly in samples, so subsamples should be taken when testing. Pigs are very susceptible to DON and should not be given more than 1 ppm in their final diet or performance decreases. Mycotoxins also affect human health so be careful when handling.
AgriFood Management Excellence uses their Canadian Total Excellence in Agricultural Management training program to help standardize financial reporting. Benchmarking is important as it compares you to the top producers to find differences that can then be used to increase productivity.
Destructible toy options are a great choice for enrichment. Rope and burlap toys were compared to see if they were viable enrichments. They are cheap materials but they will need to be replaced frequently as they get destroyed. As they are replaced every week, the novelty never wore off.
African swine disease is a contagious disease that can spread quickly in imported feed and meat and the wild boar population. If it infected Canadian herds, most of our export opportunities would be closed off. Currently there is not treatment or vaccine available so biosecurity is our main defense.
The swine budget for October 2018 is provided.
Swine Health Ontario: SHO Releases New Strategic Plan
A plan for a system for swine health management in Ontario is in place. This includes a swine health information system, targeted disease management and disease response. Swine Health Ontario is developing processes to contain and eliminate Porcine Epidemic Diarrhea, Porcine Reproductive and Respiratory Syndrome and Senecavirus A from Ontario.
Let's Gather to Talk Group Sow Housing
A seminar in Ontario is in December on Group Sow Housing and Management. Different aspects of group sow housing will be discussed.
OPC Gears Up for Next Year's Event
The Ontario Pork Congress has a new president, Kirk McLean. Awards were presented in the October annual meeting.
Barn Tech: Critical Farm Data Management
Animal comfort and care can be enhanced with automation. Technology has many benefits and can help farmers make informed decisions based on the data gathered. A hard copy backup or a mirror image of the system should be created in case of a system failure. Backups should be taken consistently so that less data is lost.
Prairie Swine Centre: Revamping Ventilation for Group Housing
Many aspects of the animal housing environment and barn operating costs are affected by ventilation. The old ventilation system is not adequate for group housing due to over-ventilation. Proper air distribution is needed to have a healthy environment with lower energy costs. The most effective system was the horizontal flow ventilation system
Producers Herd to Prairie Livestock Expo
The newest technology and information for producers is provided in exhibits at the Prairie Livestock Expo. It is held in Winnipeg in December.
Moe's Market Minute: Hog Market Receives a Late-Year Boost
Prices were leaning downwards due to Donald Trump's trade wars with China and Mexico. Trade agreements were achieved with Canada, Mexico and South Korea. Prices surged due to the spread of African Swine Fever in China, though exports to China are at a low due to duties in place.
Second Look: Pick Your Path for Pork Production
Consumption of pork in Canada has decreased since 2007. Family meals are less common now with more fast food being consumed. Pork is a quality protein that is booming in exports to other countries, but a specialized domestic market may be beneficial as well.
Better Pork December 2018 (full journal)