Better Pork October 2018
Articles in the October 2018 Better Pork Include: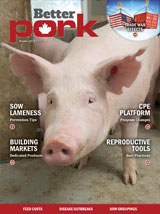 Beyond the Barn: Lessons Learned About Swine Herd Health in the U.S., Pigging Out on Pork for Heart Health, Moving Ahead from PED Outbreaks
The U.S. has already implemented the regulations to limit antibiotic use and have increased veterinary oversight. Having an established relationship with the veterinarian is important, and so is collaboration between industry groups.
Unprocessed lean red meat, such as pork, can improve heart health. Mediterranean-style diets can help decrease cholesterol and blood pressure levels.
Biosecurity is needed to prevent future disease outbreaks. Review your protocols regularity and understand your transport pathways.
Taking Steps to Avoid Sow Injuries
Lameness is one of the top reasons for culling sows. Welfare and profitability are both affected by lameness, and early prevention and treatment are the best options. Genetics, flooring, nutrition and pen configuration should be considered.
Preparing for Program Upgrades
Canadian Pork Excellence is a certification tied to the Verified Canadian Pork brand and can help promote pork around the world. PigSAFE, PigTRACE and PigCARE are the three main pillars of the program. The program will launch next year.
Up Close: Bringing the Bacon Home
Terry Beck and his family have a farrow-to-wean and farrow-to-finish operation, with a cash crop portion as well. They provide large breeding stalls, large pens for the dry barn and hay and straw for bedding. Some of the herd has pasture access as well. Their pork is often sold at local markets in Nova Scotia.
Herd Health: Reproductive Tools: Risks and Rewards
Reproductive aids can be used to induce heat in gilts or to shorten wean-to-service intervals. Best practices should be reviewed with new products and staff. Many of these aids involve hormones that are present in humans so they should be handled with care.
Swine Health Ontario: Starting with Sows to Stop Disease
Disease outbreak data is being collected from Ontario's sow faculties as Porcine Reproductive Respiratory Syndrome virus is still spreading. Month by month reports will be provided. A gilt quarantine should be in place at barns, along with a plan for transport vehicles coming to the barn and general biosecurity protocols.
Pork News and Views: PigTrace and Premises Identification: Pillar One of Effective Traceability, Troubleshooting Reproductive Issues, Group Sow Housing 101, 2018 Ontario Monthly Hog Market Facts and Swine Budget – August 2018
Premises identification is the unique identification number assigned to a piece of land where agriculture activity occurs. Registration and contact information are provided.
Gilt management and development are crucial to reproductive herd performance. Gilt replacement programs make it more difficult to troubleshoot reproductive issues. Some tips to keep in mind are: Identify reproductive issues in a timely manner, low birth weight puts gilts at risk when breeding, the most fertile gilts should be selected, a consistent supply of service eligible gilts should be in place and appropriate body state at breeding is important.
Management style, animal welfare and economics should all be considered when choosing a group housing system. Feeding design options and competitive versus non-competitive systems are discussed.
Monthly hog market facts for 2018 and the swine budget for August 2018 are provided.
Prairie Swine Centre: Decreasing Feed Production Costs
High-moisture low-quality wheat can be preserved by acidification. This can be provided to nursery pigs and improves feed efficiency. It is a lower cost option as it does not require artificial drying of the grain.
Planning for Loose Housing Success
Five important components to group housing are individual feeding, stable animal groups, sufficient space allowance with hospital pens, effective gilt management prior to first service and close daily inspection of the herd. Static groups with post-implantation mixing are good procedures that can be implemented.
Moe's Market Minute: Meaty Issues in the Hog Market
The U.S. and Mexico have reached a trade agreement. U.S. and China have continuing trade talks, with tariffs currently in place. China has its first outbreak of African Swine Fever, so they may import more pork products in the future.
Second Look: Refining the Art of Selling
Sales skills are often undervalued and misunderstood. These skills are needed to improve employee motivation, financing and innovation, as well as improve product selling and services. In order to expand your customer base, referrals from current clients are very important. Elevator pitches and first impressions are a crucial to your selling skill set.
Better Pork October 2018 (full journal)