Better Pork August 2018
Articles in the August 2018 Better Pork Include: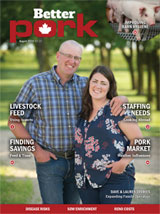 Beyond the Barn: Pork Provides Protein for Infants, Developing PRRS-Resistant Pigs, Unearthing a Price Drop in Renos
Pureed meats like pork could be a protein source for infants during the transition to solid food. When infants ate the pureed meat, they grew longer than average.
Gene editing is allowing PRRS-resistant pigs to be developed. Edited pigs show complete immunity, so they will not become infected or spread the disease.
Renovations for converting to group sow housing may be less than originally thought. Be wary of some cheaper options like floor feeding because they may cost you in the long run.
Industry Abuzz About New Protein Source
Insects may be a new protein source for swine diets. It is an efficient, high-quality and sustainable protein source. They are a good source of amino acids with a high lysine content and may even be good antimicrobials. Less land and water is needed to raise insects compared to plants and pigs would have less exposure to mycotoxins. Currently the use of insects in swine nutrition is limited by legislation.
Producers Hope for Temporary Foreign Worker Program Reforms
Canada's Temporary Foreign Worker Program helps many swine barns stay in business due to worker shortages. Processing time for this program can be long, from a few weeks to a few months and consistency in approval is lacking. Program improvements are being discussed and will hopefully be put in place.
Up Close: Setting the Stage for Little Farmers
Dave and Lauren DeVries run a sow farrow to finish and cash crop operation. They raise their pigs without antibiotics and share their passion for farming with their two sons.
Herd Health: Practical Tips for Improving Herd Health
Hygiene-specific protocols should be in place to decrease pre-weaning mortality and lesson the need for antibiotics. Farrowing, processing and day-to-day hygiene are discussed.
Pork News and Views: OAHN Practitioner Tips – Keeping PED and Other Pathogens OUT of Your Farm, Environmental Enrichment to Improve Pig Health and Performance, Heat Stress, Hazards on Farm – Be Informed and Work Safe, 2018 Ontario Monthly Hog Market Facts and Swine Budget June – 2018
Biosecurity tips are provided. These include routinely evaluate biosecurity protocols with staff and visitors, cleaning and disinfecting protocols, protecting your investment, make biosecurity easy and confirm the health status of incoming pigs.
Enrichment decreasing harmful and aggressive behaviour by providing opportunities to behave as they would in nature. Different types of enrichment can be used and should be implemented according to the Code of Practice. Information on different forms of enrichment are discussed.
Heat stress is an issue for summer months, as pigs are not capable of sweating to cool themselves down. This can occur at 32 degrees Celsius. Signs of heat stress, ways to deal with heat stress, ventilation, transportation and OMAFRA's Heat Stress in Livestock and Poultry App are discussed.
Potential risks for farm workers are grain-storage bins and liquid manure. Dangerous gases are often present and need to be monitored with safety protocols in place.
Monthly hog market facts for 2018 and the June 2018 swine budget sheet are provided.
Swine Health Ontario: Discovering Unwelcome Travelers
Livestock viruses are able to travel and live in feed ingredients. Soybean meal, lysine hydrochloride, choline chloride, vitamin D and pork sausage casings are the ingredients viruses survived best in.
Swine Innovation Porc: Creating an Enriching Experience
Sow enrichment is important to reduce aggression, with sows aggression levels being higher due to restricted feed. Straw is the most effective enrichment as it increases satiety  and can be consumed. Rotating enrichments help maintain novelty as well.
Loose Sow Housing: Saving Time and Feed in the Barn
Savings on feed and labour can be accomplished by choosing the correctly designed group feeders and pens. This is partly due to using electronic sow feeding (ESF) systems as they prevent spilled feed, keep sows calm and easy to handle and eliminate feed theft by aggressive sows.
Moe's Market Minute: Weighing the Impact of Weather and Trade
With America waging trade wars, producers are worried about possible reduced exports. Lower slaughter weights were noted and expanded packing capacity led to higher numbers at slaughter.
Second Look: Tracing the History of Pigs
Globally, people consume more pork than any other meat. Pigs have been domesticated for over 10,000 years. They have many uses and are often used in medical research to help with human health conditions.
Better Pork – August 2018 (full journal)