Better Pork June 2018
Articles in the June 2018 Better Pork Include: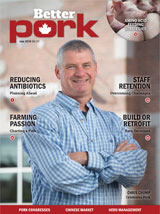 Beyond the Barn: There's a New Tariff in Town, Pork Industry Lends a 'Helping Hoof', Comparing Nitrogen Sources
Tariffs on items from the U.S., including pork, have been enforced for China. Canada is worried about this trade disruption as China is one of Canada's most valuable pork export markets.
Ontario's Pork Friends of the Food Bank are raising money to supply fresh pork to food banks across the province.
Crops fertilized with swine manure outperformed commercial fertilizers occasionally. The higher yields were likely due to more nutrients being present in the manure and a higher nitrogen availability.
Maintaining Herd Health with Fewer Antibiotics
New regulations have been enacted to reduce antibiotic use in livestock production. Standard operation procedures should be reviewed and preventative health should be a focus. This includes implementing vaccination protocols, using spray-dried plasma or other supplements, optimizing nutrition and improving ventilation.
Tackling Turnover: Why Employees Leave Their Jobs
Hurdles in recruiting and retaining employees in the swine industry include stereotypes of long hours and low pay, or if they are unaware of what agricultural production looks like. They may leave due to employer dissatisfaction, relocation or more attractive opportunities. To reduce turnover, have clear guidelines for duties and job exposure during interviews. Proper training and communication is needed and temporary foreign workers can be hired to fill positions too.
Up Close: Expanding the Farming Family Tree
Dana Hafford and Sébastien Paré purchased a sow farrow-to-finish operation in Quebec, known as Ferme Porcine HP Inc. They grow and prepare feed rations and are hoping to transition to a Certified Humane operation.
Nutrition: Dynamic Goals, Dynamic Amino Acid Ratios
Finisher diets make up a large portion of the total feed cost, with protein being one of the most expensive components. Amino acid ratios should be adjusted with the changing market situations. More control in production can lead to higher profits.
Welcome to the Ontario Pork Congress 2018
The Ontario Pork Congress was held in June and it was the 45th year of the event. Some of the booths are presented.
Alberta Pork Congress Gets Personal
The Alberta Pork Congress is an opportunity to have one-on-one time with people in the pork industry.
Prairie Swine Centre: Should You Build a New Barn or Retrofit?
This choice can be made by looking at the deficiencies of the current building. Some issues may be large enough that a new building is safer option. Renovations can cost up to 70% of a new building as well, depending on how much needs to be altered. The production system should be chosen ahead of time as they largely impact the renovation.
Swine Health Ontario: Tracking Antimicrobial Use on Hog Farms
Antimicrobial use is decreasing in Ontario hog production, with a reduction of 18% per kilogram of live pig produced. This benchmarking project is starting the conversation and getting producers involved with reducing the use of antibiotics.
Pork News and Views: Pigs of Instagram?, The 56th Annual South Western Ontario Pork Conference, Preventing Pig Mortalities, Antimicrobial Access, Use, Stewardship: Review of Current and Coming Changes, South Western Ontario Pork Conference Donates $5000 to the Kees de Lange Scholarship in Swine Nutrition, Farm to Farm Movements in PigTrace, Swine Budget – April 2018
Social network analysis can be used to see how transmission of infectious viruses may occur between herds. It can help visualize connectivity of herds with service suppliers and see which area has the highest risk for being infected and which is most likely to spread a virus.
Different speakers from the 56th Annual South Western Ontario Pork Conference have their topics discussed.
As litter size increases, so does the amount of stillbirths and pre-weaning mortality. Saving these pigs provides better welfare and profits to the producer. Farrowing, stillbirths and pre-weaning mortality are discussed. Monitoring of farrowing rooms is crucial when litters are expected to decrease mortality.
Regulatory changes have been made to stop the increase in antibiotic resistance. Veterinarians need to prescribe the antibiotics so that they are only used when necessary.
Scholarships are being created in the memory of Dr. Cornelis (Kees) de Lange for graduate students studying swine nutrition.
Movement of animals has to be reported using PigTrace. Identification and reporting requirements are discussed along with linked premises and AgManifest.
The swine budget for April 2018 is provided.
Group Sow Housing: ESF Tech Simplifies Herd Management
A relaxed training process should be developed for new gilts feeding from and electronic sow feeder (ESF). The feeding stations should be placed so that there is no traffic congestion in the pen layout. Each sow is fed individually due to their ear tag. Feed consumption can be monitored and controlled, with blended diets and phase feeding being an option as well.
Moe's Market Minute: How Important is Chinese Demand?
American pork exports are still high, though China's imports have dropped by 9%. China may implement a 25% tariff on imports of American pork which could decrease future pork prices.
Second Look: Seeing the Importance of Listening
Time needs to be spent communicating with staff and listening to what they have to say to ensure a well functioning work environment.
Better Pork – June 2018 (full journal)