Better Pork April 2018
Articles in the April 2018 Better Pork Include: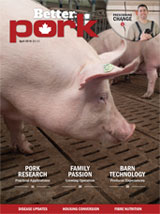 Beyond the Barn: Breeding Away Castration, Antibiotic Alternatives to the Rescue, Revised TPP Opens Doors for Pork
A swine genetic trait is being developed to eliminate the need for castration. Animal well-being would be improved by this and boar taint would be prevented. Male piglets would remain at the pre-pubertal state so castration would be unnecessary.
An amino acid may be able to substitute for growth promotors and antibiotics. L-glutamine is the naturally produced amino acid, and when fed to piglets, they do better than when on antibiotics. Improvements are noted in intestinal health.
The Trans-Pacific Partnership (TPP) has been revised, providing stability to the Canadian pork industry.
Prescribing Change in the Livestock Industry
Antibiotic resistance is a major concern, so veterinarians must prescribe prescription drugs and feed to ensure they are used only when needed. Changes are being made to ensure current antimicrobials are preserved by slowing the growing resistance.
How Does Pork Research Spell Success?
Research is very important in the pork industry to have the best nutrition, animal housing and health. A lot of the current research is on reducing feed costs as they are the largest expense for the producer. Welfare research is equally important in order to normalize the pigs behaviour with enrichment being of interest. Genetic technology can be used to help have resistance to diseases and engineering can be used to enhance the barn designs.
Up Close: Family Ties Unite Business Partners
The Vandenbroek family moved to Canada from the Netherlands in 1992, building up their multi-site farrow to partially finished operation shortly after. They grow all the crops needed to produce the required feed for the pigs as well.
Herd Health: Salmonella in Pigs and Pork
Salmonellosis can occur in pigs, and is usually spread through infected animals. It is a zoonotic disease, with pigs and pork being the largest source of salmonella in people. It is often food-borne for people as they may get it from eating raw or undercooked meat. There are many different strains, with some causing more clinical signs of the disease.
Nutrition: Examining Fibre Nutrition in Finishers
The largest user of land is livestock production through grazing and production of feed grains. By using resources more efficiently, sustainable development and increased levels of production can be seen. Cereal grain co-products are less expensive and have high fibre content. Finishers are better at utilizing the fibre and can extract more energy from it. Withdrawal of fibre at the end of the finishing phase can help decrease the difference in slaughter weight and carcass weight.
Pork News and Views: Cull Sows: Traceability for a Complex System, How Do You Get Gilts to Fit into Your Batch Farrowing Program, Impact of Creep Feed Pellet Size on Piglet Performance Pre- and Post-Weaning, Free Online Agri-Food Courses, OMAFRA Farrow to Finish Swine Enterprise Budget – 5 Year Summary, Swine Budget – February 2018
PigTrace is the Canadian pork sector's traceability program. Requirements for identification and tracking of culled sows are discussed.
It can be difficult to enter gilts into the breeding herd in a monthly batch farrowing system. Synchronizing ovulation can be done successfully through the two different treatments discussed, though reproductive performance was slightly lower.
Creep feeding may help piglets with the weaning process by getting them used to solid food. When it was consumed, performance was improved. Smaller piglets consume more, increasing their average daily gain. Those who were exposed to larger pellets did much better, with no growth-lag noted.
Many free online courses are available through the University of Guelph, with many focused on producers and processors.
The 5 year budget summary is provided.
The February 2018 swine budget is provided.
Swine Health Ontario: Update on Swine Disease Risk in Ontario
Status updates and transmission risk reduction techniques are discussed for circulating swine diseases in Ontario. These include Porcine Epidemic Diarrhea, Senecavirus A, Porcine Reproductive Respiratory Syndrome and Swine Influenza.
Prairie Swine Centre: New Technology Can Help Your Operation
Multiple online systems can be used to manage and monitor her performance. Monitoring feed intake and growth rate, as well as identifying sows in heat can all be accomplished with new technology.
Keeping it Simple in Loose Sow Housing
Some tips for converting to loose sow housing include: You can covert without affecting production and without concrete work, a complicated design is not needed, a supportive partner can help in the transition and the sow should be put first.
Moe's Market Minute: Will Booming Pork Demand Continue?
2017 had a large pork production and export demand for the U.S., though American involvement in the Trans-Pacific Partnership was discontinued, so there is worry about market access to Japan.
Second Look: What Might the Future Look Like?
New technologies are changing our future. CRISPR is one of these technologies as it allows editing of the genome. It can help with genetic defects, improve resistance and crops.
Better Pork – April 2018 (full journal)