Better Pork February 2018
Articles in the February 2018 Better Pork Include: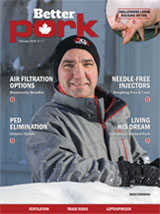 Beyond the Barn: 'Gene'rating Heat for Modern Pigs, Filling a Niche in European Markets, Hot Hogs Don't Drink More Water
A more cold-tolerant pig is being bred in China and the UK. This may lead to stronger piglets. When the gene is expressed, energy stored in fat is used rather than in muscle.
Canadian Food Inspection Agency has changed health mark practices to match European Requirements. Labels can now be placed on frozen pork.
Water consumption pattern is changed in the summer but not water intake. Verification should be completed on water pumps to ensure they can supply water intakes.
Breathe Easy: Air Filtration Enhances Biosecurity
Pathogen threat is reduced when an air filtration system is installed. Positive and negative filtration systems can be used, both with their advantages and disadvantages. When choosing a system, filtration efficiency, filter air resistance, ease of filtration installation and the system's susceptibility to clogging should be considered. Maintenance is required to keep the systems functioning properly as well.
Making Needles a Thing of the Past
Hydraulic pressure is used in needle-free injectors to allow the inoculant to penetrate the skin. These devices are battery powered and allow different dosages for injection. Less stress and pain are experienced when using these devices versus needles. Some benefits include less broken needles in the meat, a more accurate injection, better absorption of the vaccine, less disease transmission and its more user friendly.
Up Close: New Country, New Opportunities
Jeroen Van Boekel worked in the swine sector in the Netherlands before starting his own operation, Greyland Pork, in Manitoba. He produces pigs for the U.S. and provides breeding stock for overseas markets and Manitoba producers.
Herd Health: Leptospirosis: A Common Infection
Leptospirosis can infect pigs and humans, with most infections having no clinical signs. It is more common in outdoor pigs as they may drink from an infected water source. Symptoms, diagnosis, treatment and prevention are further discussed.
Pork News and Views: Zoonotic Diseases: Crossing Between the Species, High Crude Protein DDGS with Improved Digestible Energy and Amino Acids for Pigs, Keeping African Swine Fever Out of Canada, Needle Free Technology: Usage and Precautions, Swine Budget – Average and December 2017
Foodborne bacteria and parasites along with occupational contact diseases that are zoonotic are discussed. Good hygiene is the first line of defense against these diseases.
Corn distillers grain with solubles (DDGS) has variability in the concentrations of available amino acids and energy. High protein DDGS has higher crude protein, amino acid content and digestible energy compared to conventional DDGS and may be a cheaper alternative to reduce feed costs.
African Swine Fever has spread to Europe and has been linked with illegal imports of meat. It is crucial to not bring pork products onto the farm.
Needle free injections have many advantages and some disadvantages. There are many different types available for use.
The average and December 2017 swine budgets are provided.
Swine Health Ontario: PED Elimination on Track in Ontario
Porcine Epidemic Diarrhea is on its way to becoming eliminated from Ontario, with only one system that is still endemic with it. The disease spread rapidly throughout Manitoba and is still present there. Enhanced biosecurity protocols are key to reducing and eliminating this disease.
Prairie Swine Centre: Ventilating Converted Gestation Facilities
Animal environment and energy bills are largely affected by ventilation. Existing ventilation should not be used for a barn that has converted to group housing as it will lead to over-ventilation. Ventilation systems need to be redesigned; the horizontal flow ventilation system is the most effective in reducing costs and removing heat while providing better air quality and cleaner floors.
Busting Myths About Loose Sow Housing
Myths about loose sow housing are discussed. These include sows fighting with one another continually, lower performance and not being able to implement high level management.
Moe's Market Minute: NAFTA's Impact on the Pork Industry
Donald Trump is renegotiating NAFTA with lots at stake as this is a very profitable trade agreement for all three countries, with the U.S. being Canada's largest export country. Hopefully the outcome will benefit North American pork.
Second Look: Solutions Don't Need to be Difficult
Stress and worry around decisions are often distractions that make finding the solution more difficult than it needs to be. Most of the worries we have never come to fruition, it is better to focus on the task at hand.
Better Pork February 2018 (full journal)