Better Pork October 2017
Articles in the October 2017 Better Pork Include: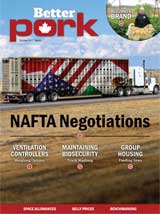 Beyond the Barn: Pork Barns See Revised Regulations, PRRS 2.0: A Strain on Producers, Research to Create a Valuable Tool
Barn and ventilation systems need to be verified by an engineer due to revised regulations on the Natural Gas and Propane Installation Code.
Porcine Reproductive and Respiratory Syndrome has a new strain that is more virulent. Biosecurity is essential in the barn, transportation and with the semen source.
Benchmark values are being created for nursery pigs performance. Production types and husbandry practices vary along with growth rates between and within farms.
The Rise of Ventilation Controllers
New controllers for ventilation systems can collect data from electronics and sensors around the barn. This information can help with decision during production. The pigs are more comfortable due to decreased environmental fluctuations and energy savings are significant. If the decision to upgrade is made, ensure employees are properly trained with the new system.
Talking Trade with Industry Leaders
The North American Free Trade Agreement (NAFTA) benefitted Canadian hog producers greatly. As it is working so well, the view is that it should not be changed. Worries include the implementation of tariffs or NAFTA being withdrawn altogether, losing the Mexican market. It might change for the better too, but at this time the outcome is unknown.
Up Close: Growing a Brand in Nova Scotia 
The locally produced pork industry is rebounding in Nova Scotia, with Meadowbrook Farms on the forefront. It is a farrow-to-finish operation, a pork processing site and has a meat market and catering service. Margie Lamb owns and operates it and is also the chairperson of Pork Nova Scotia.
Herd Health: Tapeworm: A Zoonotic Parasitic Infection
Taenia sodium is the pig tapeworm and can be transmitted to people who consume undercooked or raw pork. It is rare in Canada and the U.S. and usually occurs from traveling elsewhere. Life cycle, symptoms and prevention techniques are discussed.
Nutrition: Nutrition Tips for Group-Housed Sows
Food-directed aggression can be avoided by providing space, proper pen layout and slat configuration with properly timed mixing events. They may also fight over feed in competitive feeding systems or if they are hungry. Fibre can be used in feedstuff to increase sow satiety. A feed drop calibration routine should be developed at least once a month. When segregated by parity, it is possible to feed different diets to lower and higher parity sows as they have different requirements.
Pork News and Views: New Swine Education Centre in Ridgetown, International Comparisons for Swine Production, Health and Safety Board Requirements, 2016 Census of Agriculture Highlights for Ontario and Canada – Pigs, Did You Know? Unvented Heater Compliance Deadline has been Extended, Swine Budget – August 2017
A new swine education centre was opened so that students can have management and hands-on technique experience for modern hog production. New techniques and technology can also be demonstrated to producers.
Ontario participated in the swine agri benchmark network, which analyzes and compares them to other countries in order to see how competitive they are.
Requirements from the Ontario Government need to be posted in barns to ensure worker safety. These requirements are listed.
The second-largest number of pigs in Canada is in Ontario, with growth occurring due to better market conditions. Canada's numbers are also growing due to the market conditions.
The deadline for existing natural gas or propane fired unvented heaters in livestock and poultry barns has been extended to 2019 or 2021 depending on barn size.
The swine budget for August 2017 is provided.
Swine Health Ontario: The Role of Transport in Biosecurity
Disease transmission can occur in pig transportation due to potential biosecurity gaps and limited truck washing capacity. Some biosecurity precautions that should be in place are discussed.
Prairie Swine Centre: Optimum Space for Nursery Pigs
Health and welfare and also economic viability are all affected by space allowances. The optimal space allowance has a k value of 0.0335 in nursery, grow and finish pigs.
Moe's Market Minute: Pork Belly Prices Hold the Key
Pork belly prices were very high this summer and now are starting to drop off. Pork exports are continuing to support prices.
Second Look: Why Doesn't the Stomach Digest Itself?
Ulcers are similar to the stomach digesting itself with 60% of pigs at slaughter having them. A protective mucous coats the stomach to protect it from acids. Information about stomach physiology can be used to influence management decisions in order to optimize digestion.
Better Pork October 2017  (full journal)