Better Pork August 2017
Articles in the 2017 Better Pork Include: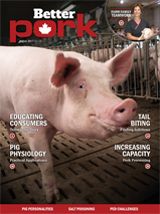 Beyond the Barn: Quebec Stream-Lines Hog Risk Management, Finding the Best Fit for the Barn, Producers Continue to Confront PED, Shaping Agriculture's Public Narrative, The Cost of a Curly Tail
Automation and simplification of the system Service de gestion du risque du marché will be increased with the new funding for risk management.
Pigs have different personalities, with some that may be better in certain environments. This may be useful in group housing situations.
Porcine Epidemic Diarrhea is still in Canada since 2014. It was eliminated from Western Canada, but now it is increasing in Manitoba. Biosecurity protocols must be in place, especially for transport vehicles.
The public is fairly disconnected to their food, so farmers have to tell their story in order to stand against the activists who may be spreading misinformation. The public wants information on how their food is raised, but it is unclear where to find this. Many farmers are sharing their stories through social media or barn tours.
Tail docking is often done to reduce tail biting in pigs. This practice is illegal in the European Union, though many producers still do the procedure. Most tail biting occurs in the grower and finisher stages. Stress must be reduced to stop this behaviour, with guidelines listed. Lack of proper enrichment is a leading cause for tail biting, along with mycotoxins in feed and upset in the daily routine.
Up Close: Instilling an Appreciation for Ag
A swine and cash crop operation in Lambton County is run by Maiike and Lyle Campbell. They hope to raise their children with the same passion for agriculture.
Herd Health: Recognizing Signs of Salt Poisoning
Water deprivation commonly leads to salt poisoning and often happens by accident due to disruption in the water supply. Clinical signs do not usually appear until after 24 hours of deprivation. Clinical signs, diagnosis and treatment are discussed.
Pork News and Views: University of Guelph Swine Research Day, New Food Safety and Traceability Online Courses, Compensatory Growth: A Potential Cost Saving Feeding Strategy, Body Condition Scoring Sows, Barn Fire Prevention Resources, Do You Have a Water Contingency Plan?, Swine Budget – June 2017
Two keynote speakers were involved in the University of Guelph Swine Research Day with one of the presentations on the topic of "The Evolution of Diet Formulation: A Look Into The Future".
Free eLearning courses are available on the Agriculture and Food Education in Ontario online learning system through the University of Guelph
Feed is one of the greatest costs of pork production. Alternative feeding strategies could help save costs. Compensatory growth is a method that involves a nutrient restriction period followed by a recovery phase. The pigs are able to grow at a faster rate and match the weight of the unrestricted pigs.
Sow reproductive capability is often linked to body condition. If underweight, they might fail to maintain a pregnancy, while if overweight, trouble with farrowing, less milk production and feed intake and lighter weight litters can occur. Ultrasound is the most accurate way to measure body condition, but finger and hand pressure can also be used.
Barn fires are preventable with regular maintenance and inspection. Infrared cameras can be used to detect electrical hot spots. Other tips are provided to help prevent barn fires.
Plan for future weather by having proper drainage systems and conserving water when possible. Have a contingency plan in place in case water sources are maxed out. Other things to consider and resources are listed.
The swine budget for June 2017 is listed.
Moe's Market Minute: Tracking a Stronger Demand for Pork
Hog slaughter totals are expected to be higher than last year. American breeding herds are also growing. Consumer demand is still strong and should continue to be for the season.
Second Look: Studying and Applying Physiology
Peripheral vision should be taken into account when moving pigs. They perceive potential dangers quickly and move in the opposite direction. This information can help move pigs with ease.
Better Pork August 2017 (full journal)