Better Pork June 2017
Articles in the June 2017 Better Pork Include: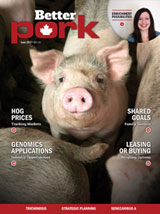 Beyond the Barn: Using Pigs to Advance Human Health, Send a Tasty Video Message, Lowering the Spread of Disease, Enrichment: Novelty or Necessity?, Pork Industry Tickled Pink by Genomics
Smithfield Bioscience was launched with efforts to explore new technologies and methods for tissue regeneration and organ transplantation.
A new font was developed made out of bacon that anyone can use and Apple Inc. has made its first bacon emoji.
Canadian and American health officials are collaborating on biosecurity protocols.
Straw is the most successful enrichment option as it allows rooting behaviour. Biological functioning and social behaviour are improved when enrichment is provided. Even the radio can be used as a form of enrichment as it provides novel sounds.
Genomics has been very useful in the pig industry, especially in regard to disease management.
Up Close: Diversification Pays Off for this Family
Bill Tibben farms with his family at Tibben Farms Inc. managing swine, dairy and crops. He runs the swine operation, selling to local butchers.
Events: Gearing Up for the Ontario Pork Congress, Alberta Pork Congress 2017
The theme for the Ontario Pork Congress is Celebrate Pork, merging some activities with Canada's 150th birthday.
The Alberta Pork Congress is in June in Red Deer.
Pork News and Views: First Annual CFM (Kees) de Lange Lecture – 2017 London Swine Conference, What Will Ontario Livestock Farms Look Like in the Low-Carbon Economy of the Future?, Water Management, Tips to Reduce Heat Stress in Your Pigs, 40 Years Ago in Pork News and Views, Swine Budget – April 2017
The CFM de Lange Lecture series is an annual lecture given by swine nutritionists at the London Swine Conference in honour of the late Dr. Kees de Lange.
Climate change is now accepted as a major threat. Livestock needs more sustainable crops as a large part of livestock's footprint is feed production.
Water wastage is common in the swine industry and increases costs. Drinkers should be at the proper height and angle with the correct flow rate to reduce waste. Cup or bowl drinkers waste less water compared to nipple drinkers too, along with wet/dry feeders that reduce waster use.
High temperatures often have negative impacts on performance. Management strategies to reduce heat stress are listed.
Heat stress was also an issue 40 years ago, as this is a recurring challenge.
The April 2017 swine budget is provided.
Herd Health: Trichinosis – The Pig is Not Guilty
Modern pig-rearing methods have eliminated the threat of Trichinosis/roundworms in pigs. The current concern is in hunting wild populations of animals, all meat should be cooked thoroughly to avoid this parasite.
Swine Health Ontario: Senecavirus A – What You Need to Know
Senecavirus A is in Ontario with symptoms similar to vesicular foreign animal diseases. If any signs are found, notify the CFIA and your veterinarian and stop all movement. Symptoms and cleaning protocols are listed.
Better Business: Deciding Whether to Lease or Buy an ESF
A leased assets list should be known to the farmer so that they will know how much they are already spending on leases. Leasing allows for a quick approval if the equipment is needed fast and is also better if there is a limited budget and provides small tax benefits.
Moe's Market Minute: It's Raining Pigs
The American hog herd is expanding every year. This increased production has decreased the prices, so demand needs to be able to keep up with the increased inventory. Export growth rates are continuing to increase.
Second Look: How Pig and Bear Went Into Business
A story is discussed along with the need for a strategic plan in the pig business.
Better Pork – June 2017 (full journal)