Better Pork April 2017
Articles in the April 2017 Better Pork Include: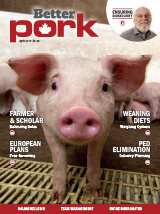 Beyond the Barn: Creating Swine Surrogates for Leading Boars, New Gadget for Cooking Bacon, Lessons Learned from H1N1 Outbreak, Ensuring Biosecurity at Boar Studs
Male pigs have been developed that can produce sperm genetically identical to a selected donor boar. They can be surrogates for donor boars as they cannot create sperm with their own genetic material.
A Bacon Express toaster has been created that cooks bacon in minutes.
An incident command system was adopted which has helped with emergencies and outbreaks in the livestock industry.
Some diseases can be spread by boar semen, such as porcine reproductive and respiratory syndrome. Artificial insemination has a much lower biosecurity threat compared to other aspects of the industry, but if genetic supplies had an outbreak, many barns could be affected. Many biosecurity protocols are in place to prevent this.
European Research: Danes Plan for Tomorrows Pork
Denmark is investigating different free-farrowing pen designs that allow more movement with no increases in piglet mortality. More solid flooring and straw bedding is in demand as well. Consumers also want more animals raised without antibiotics and with no tails docked, or docked with the use of local anesthetics. Changing enrichment makes this possible as it keeps the pigs occupied so less tail biting occurs. By following these standards, smaller pork producers can be competitive due to premium prices.
Up Close: Producer Balances Farm and School
René Roy runs a farrow-to-finish operation and also a maple syrup and dairy operation. On top of his farming, he is also completing his PhD at McGill University in agricultural economics.
Pork News and Views: 55th Annual South Western Ontario Pork Conference, Feasibility of Using a Specially Design Milk Replacer Feeding System, Erysipelas Increase – Update, Swine Budget – February 2017
Dr. Flowers had two presentations at the South West Ontario Pork Conference. One was focused on reproductive problems with determining the time a stillborn occurred as a diagnostic tool to see what happened in the pregnancy. Sow longevity was also discussed, with management being a key factor in improving longevity.
As litter size increases, sows are having difficulty producing enough milk for the piglets. Supplementing milk could save more piglets when cross-fostering cannot be done. Feeding milk replacer can be done in a cost-effective way when an inexpensive feeder design is used.
Erysipelas lesions are still on the increase in Quebec and Ontario. A vaccination control program can help prevent outbreaks.
the swine budget for February 2017 is provided.
Herd Health: Salmonella in Pigs and Pork
Salmonella is a zoonotic disease with many different strains. Pigs and pork are the most common source for this infection in people so avoid cross-contamination and ensure all meat products are cooked thoroughly.
Nutrition: Effects of a Spray-Dried Plasma Regimen
The most important swine disease in Canada is currently porcine reproductive and respiratory syndrome. When positive pigs are fed a spray-dried plasma regimen, mortality rates were lower and a greater final body weight was noted.
Swine Health Ontario: The Ongoing Search for Solutions
The Porcine Epidemic Diarrhea elimination plan is in place due to the efforts of Swine Health Ontario. Some helpful procedures are listed that may help decrease the prevalence of this disease.
Second Look: Encouraging Team-Based Problem Solving
Problem solving using a team-based approach can be beneficial as each employee's strengths are used. Managers should listen to their employees advice as it may be helpful to ensure a smooth running operation.
Better Pork – April 2017 (full journal)