Better Pork February 2019
Articles in the February 2019 Better Pork Include: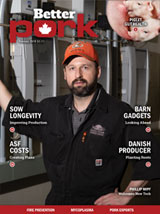 Beyond the Barn: Properly Storing Drugs Pays Off, Finding a Prescription for Success, Tips for Keeping Disease at Bay
Veterinary medications should be stored carefully at specific temperatures. Accurate thermometers are necessary and fridges should not be overstocked.
Medically important antimicrobials now need a veterinarian prescription for use, so a good relationship with a veterinarian is more important than ever.
Biosecurity protocols should be in place for barns in order to keep disease out. This includes implementing clothing policies.
Getting the 'Guts' of Piglet Health
Intestinal health is crucial for systemic health in animals. If the gastrointestinal (GI) tract is functioning properly, it can aid in growth and fighting off disease. Stress can negatively impact gut health which is often seen at weaning. Weaning should not occur before 21 days of age as the GI tract is not fully developed. Colostrum in early life and other nutrients are essential in piglet health.
Improving Sow Longevity
Sow longevity is needed to boost overall efficiency. Gilts are the most labour-intensive animals in the system so reducing gilt replacement is beneficial. Nutrition research and technology has led to feed programs that increase longevity. Lameness is a big problem in sows as well. Genetics and floor type both have a large influence in this area.
Smart Technology May Leave You Dumbstruck
Technology prices are decreasing with time, with many barns now implementing smart technology. There is technology to prevent a sow from lying on her piglets to reduce crushing deaths, a cough monitor to catch diseases in the herd early and systems to monitor humidity, temperature and pressure automatically. Energy efficient technologies often offer incentives to use them.
Up Close: Making Moves, Optimizing Opportunities
Henrik Thomsen bought the Canmark Family Farming Ltd. in Manitoba after being a long time employee. He raises 1,800 sows farrow to finish and plans to expand it.
Herd Health: Understanding Mycoplasma Spp.
There are many different species of mycoplasma bacteria. The four different species that cause disease, Mycoplasma hyopneumoniae, Mycoplasma hyosynoviae, Mycoplasma hyorhinis and Mycoplasma suis, are discussed.
Swine Health Ontario: ASF's Biggest Effects will be Economic
If African swine fever was found in Canada, many trading partners would immediately close their borders. The costs Canada would face are estimated to be $40 billion. An Incident Command Centre is being developed to help the industry respond to the next swine disease issue.
Swine Innovation Porc: Fed Up With Feed Costs? Chew on This Research
If net energy is lowered to reduce feed costs, the pigs have an increased feed intake to make up for the loss of energy. This diet can be used as a cheaper option, but the amino acid ratio to energy should not be changed.
Pork News and Views: Group Sow Housing – What System is Right for Me?, Senecavirus A (SVA) On-Farm Surveillance Project Update, The Human Side: Stress and Mental Well-Being on the Farm, Swine Budget – Average 2018 and December 2018
There are five main types of feeding systems for loose sow housing: Floor feeding, free access stalls, shoulder stalls, electronic sow feeding or a combined free access-electronic system. A decision tree is provided to help choose which system is best for your barn.
No evidence of Senecavirus A infections have been found on Ontario farms. The routine loading dock environmental monitoring program has been discontinued due to this, though biosecurity protocols should remain in place.
Farmers experience stress, anxiety, depression and suicide at higher levels than other occupations. Farmer mental health programs are there to help with these and to build resilience skills to help farmers thrive.
The average swine budget for 2018 and the December 2018 budget are provided.
Top 10 Ways to Help Prevent Barn Fires
Barn fires occur most in the winter due to electricity use, feed and bedding storage and repairs. Ten tips for preventing barn fires are listed.
Prairie Swine Centre: Maintaining Animal Robustness
Nutrition can help maintain robustness in pigs while eliminating in-feed antibiotics. The threonine requirement is higher in pigs fed high-fibre diets and in pigs whose immune system is stimulated.
Moe's Market Minute: Forecasting 2019 U.S. Pork Export Demand
U.S. pork exports are strong, though less pork is being shipped to China due to trade-tensions. Due to African Swine Fever in China, they continue to buy regardless of the tariffs in place. Exports to Mexico were also down due to tariffs. Trade negotiations will be made with Japan as well.
Second Look: Do You Play to Win or Play Not to Lose?
Different business philosophies can be found in different barns. One may be to constantly look for improvements, while another is to emphasize predictability. Business is more likely to progress through changes and employees may be more engaged in their work.
Better Pork February 2019 (full journal)