Better Pork April 2019
Articles in the April 2019 Better Pork Include: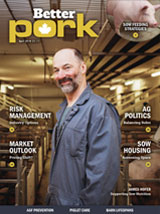 Beyond the Barn: Swine-Powered Semis on the Horizon, Tainted Meat Makes Bad Souvenir, New Trial Cancer Treatment Tool
Diesel-powered engines may be able to use swine manure as a renewable fuel source. Hydrothermal liquification converts it into crude oil which needs further processing to create engine fuels. This fuel may be used within the next five years.
African Swine Fever can survive in meat and then be passed on to pigs. This disease and foot-and-mouth disease were found in contraband in Australia.
A "drug sponge" is being tested in pigs to see if side effects of cancer treatments are alleviated. A sponge is inserted to the bloodstream to absorb any excess medications.
Fueling Up: Optimizing Body Condition During Lactation
Genetics have led to prolific litters which increases demand on sows and gilts. Healthy and productive sows produce strong piglets. Sow feed intake is crucial during gestation and body condition is before farrowing. Visual scores can be used for body condition, though ultrasound and calipers are more precise. Lactation diets, nutrient balances and feed intake are discussed.
Manage Risk or It Will Manage You
There is a lot of risk involved with farming swine. Revenue and feed prices fluctuate along with trade and disease threats. Business risk management programs are available that offer protection from production and income losses. AgriStability is and example of this, and other options are discussed as well.
Up Close: Producing Pigs in the Prairies
Juergen Preugschas is a second-generation farmer in Alberta at Pigs R Us, a contract finishing operation. He has been involved in ag politics for 25 years to stay up to date with issues and innovation in the swine industry.
Herd Health: The History of Porcine Circovirus Type 3
Porcine circovirus type 2 (PCV2) caused an epidemic before being controlled by the commercial PCV2 vaccines. In 2015, the U.S. experienced PCV3 which does not always cause disease but may compromise the immune system of pigs. Research is being done on this novel virus and a vaccine will hopefully be an option in the future.
Swine Health Ontario: Ontario Prepares to Address ASF Threats
African swine fever continues to spread across Europe and Asia. A single case in North America could shut down export markets. Things producers can do to help prevent this disease in Canada are listed.
Prairie Swine Centre: Are Sows Motivated for Movement?
A greater freedom of movement is needed according to the National Farm Animal Care Council. Most farms are in the process of implementing group housing. Gilts and sows have a moderate level of motivation to have time outside of their stall. Sows are more motivated towards extra food than gilts. Weekly exercise is being examined for its benefits.
Pork News and Views: OPIC Special Interest Meeting: African Swine Fever Business Risks – Summary, Group Sow Housing – Producer Profile, Water Line Maintenance, Common Issues with Large Group Housing, News from the Ontario Animal Health Network Swine Team, OMAFRA Farrow to Finish Swine Enterprise Budget – 7 Year Summary and Swine Budget – February 2019
Presentations at the meeting included Canada's and Ontario's position in the global pork industry, scenarios about African swine fever and what would happen if African swine fever was in Canada.
t is crucial to do your homework when choosing your group housing system. Comments on the system are provided, along with a comparison in electronic sow feeding system and a shoulder stall system.
Best economic performance and herd health rely on clean water. The water should be sampled for total coliform and E. coli near the well. The procedure for this is provided. Water treatment systems and plumbing are further discussed.
Space is crucial to sow performance in group systems. Feeding systems, layout and design of the group pens are all important to ensure success. Drinkers and enrichment are also discussed.
Erysipelas cases are becoming more common so tissue samples are wanted for suspect cases to compare isolates. Influenza A is also reported at a higher frequency. People working with swine should have a vaccine for this as it is a zoonotic disease.
The farrow to finish swine enterprise budget 7 year summary and the February 2019 swine budget are provided.
Prairie Swine Centre: Addressing Pig Barn Deterioration
Most Canadian swine barns are between 20 to 30 years old. Many will need to be renovated or replaced over the next few years. To mitigate rapid deterioration, the appropriate ventilation, environmental control and air treatments, efficiency of building materials, adequate building maintenance and improvement of corrosion protection should be implemented.
Moe's Market Minute: Hog Market Shift on the Horizon
Pork production is still increasing in the U.S., though a backup of hogs are being seen due to many factors including the trade wrangle between the U.S. and China. Pork reached its lowest wholesale price in a decade. U.S. and China relations are expected to get back on track shortly. North America needs to be extremely cautious to prevent African swine fever from entering.
Second Look: Steps for Setting Piglets Up for Success
The first few hours are extremely important in a piglet's life. They need colostrum for proper immune function, so the earlier they consume this the better. Sows only produce colostrum for 12 hours after farrowing. They are born wet and vulnerable to hypothermia so heating lamps should also be provided.
Better Pork April 2019 (full journal)