Better Pork June 2019
Articles in the June 2019 Better Pork Include: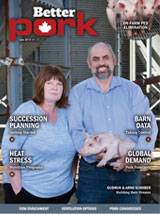 Beyond the Barn: Wild Pigs a Wild Card for ASF, Facial Recognition for Swine Farms, The Problem of Trade Uncertainty
Having African swine fever in the wild boar population has made it even harder to eradicate the virus in Europe and China. The wild pigs in Canada could be a possible vector if the disease enters the country and are also destructive to the environment.
An animal-centric welfare assessment technique is being developed to recognize pigs facial expressions, with hope of being able to look at emotions such as happiness and distress in increase their welfare.
Canadian, Mexican and American government signed their trade agreement in November, but tariffs are still in place and may be implemented on Canadian pork. This could have a large impact on producer prices in Canada.
Take Control of On-Farm Data
Data collection systems help barns become more efficient at a lower cost. Data can also be used to identify problems and for benchmarking. Collecting all this data can be overwhelming to the producer. Different companies can help interpret data while maintaining privacy of the data collected.
How to Succeed With Succession
Transparency is needed when dealing with succession, especially in the financial situation. A financial advisor is recommended to help plan the transition and an accountant may also be needed. It can take years to plan the transition and a change in mindset may be needed.
Up Close: Keys to Success: Passion and Dedication, Farmer Offers Hands-On Learning
Arno and Gudrun Schober moved from Germany to Canada to farm. They have a farrow-to-finish operation and crops as well as a pig-roasting business.
Nancy, Ken and their daughter Kaley built Hope River Farm in P.E.I. and pasture-raise livestock including lamb, pork, duck, chicken and rabbit. They also take part in environmental initiatives and open their farm to the public to educate about agriculture
Swine Health Ontario: The Role of Transport in Biosecurity
Pig transport is a risk area for disease transmission as there are biosecurity gaps and limited truck washing capacity. Sow sites can potentially move diseases to a number of sites downstream. Actions to minimize risk include driver platforms, truck washing and a swinging gate in load-out area.
Welcome to OPC 2019
The 46th annual Ontario Pork Congress is in June with over 140 exhibitors participating. There will be many family friendly events and lectures on aspects of the swine industry.
Alberta Pork Congress Gets Better Each Year
The 45th annual Alberta Pork Congress is in June, providing networking opportunities, exhibitors and a banquet.
Pork News and Views: Managing Water Intake, Maximizing Performance of Sow Lactation, OPIC Career Days, Toys for Group Housed, Swine Budget – April 2019
Water is the nutrient needed in the greatest amount and is often overlooked. Most water intake recorded is actually water wastage with finisher pigs wasting up to 25% of water from well-managed nipple drinkers. Water flow parameters are provided to help reduce water wastage and save costs.
Suckling pigs need colostrum for growth, though most sows cannot provide enough for their litter size. Milk production can be improved by stimulating the mammary glands. A high dose of oxytocin can prolong the production of colostrum. The diet can also be manipulated to improve mammary development
Ontario Pork Industry Council has summer career days for HR – Legal Rights and Responsibilities as well as Health and Safety Days.
Different enrichment toys were provided to sows to see what the preferred one was. All the toys provided were played with, and it is recommended to have a variety of toys as enrichments.
The April 2019 swine budget is provided.
Herd Health: Steps for an On-Farm PED Elimination
Porcine Epidemic Diarrhea (PED) has been found in various provinces this year. Steps are provided to help eliminate PED from the farm. These include biocontainment, herd exposure, removing young piglets and cleaning and disinfecting.
Prairie Swine Centre: Best Enrichment Options for Sows
The best enrichment for sows is fibrous materials like straw or hay. Manipulable and consumable items are highly attractive to pigs. Canadian farmer are reluctant to implement the use of hay due to biosecurity concerns and possibly clogging the liquid manure system. Rope is preferred slightly more over wood with multiple enrichments being ideal.
CDPQ: Strategy to Cut Sow Feed Costs
Group sow housing renovations may lead to a smaller financial budget so strategies to cut feed costs were investigated. Phase feeding is an option, with parity-segregated phase feeding having a lower feed cost with no nutritional deficiencies noted.
Nutrition: Keep Your Sows Cool this Summer
Pigs are prone to heat stress as they are unable to sweat and have small lungs for panting. Feed intake is reduced, seasonal infertility, earlier farrowing and higher markers of oxidative stress are noted when sows cannot cope with heat. Identify if you have a heat-stress risk, look into management practices and infrastructure resources to reduce the risks and ask nutritionists to formulate diets that can help the sows cope.
Ventilation for Grow-Finish Barns
New grow-finish barns can use a dual ventilation system that incorporates mechanical and natural ventilation.
Moe's Market Minute: Will We Face a Meat Production Deficit?
African swine fever is becoming a global swine epidemic. China's demand for pork is increasing which may benefit the U.S., Canada, Brazil and the European Union. There is a global animal protein deficit with not enough pork to fill the gap. The U.S. is pressing China to drop its pork ractopamine ban in order to have more exported.
Second Look: Pigging Out on Facts About Swine
Common phrases referring to pigs are discussed to see the truth behind them.
Better Pork June 2019 (full journal)