Better Pork August 2019
Articles in the August 2019 Better Pork Include: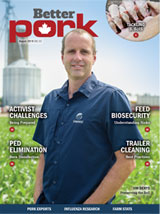 Beyond the Barn: Industry Trucking to Boosted Biosecurity, Researcher Takes Aim at Swine Flu, Where's The Vaccine for ASF?
Prairie Agricultural Machinery Institute is developing an automated washing system for swine transport trailers. The Prairie Swine Centre is developing an improved transport trailer design.
A study is being done on how influenza A affects pig's lungs. Cytokines produced in the immune response may cause lung damage or if they are in the right amount they may be beneficial to kill the virus.
Researchers are working to develop a vaccine for African swine fever. They are looking for an alternative to a live vaccine as they do not want to bring the live virus to North America.
The Pork Sector Ramps Up Battle Against S. suis
Streptococcus suis (S. suis) is a constant cause of swine mortality in Canada. This bacterium can affect all age groups, is quite resilient and spreads easily. Signs differ depending on what part of the body is infected. Factors affecting virulence and certain strains are not fully understood. The treatment protocol often involves antibiotics and is most effectively treated if the strain is known.
Dealing With Animal Rights Activists
Peaceful protests are often supported by the agricultural industry, but in recent month, harassment, trespassing and physical interference are becoming more common from animal rights activists. More protection is needed for transporters and farmers from this harassment. Do not engage in confrontation, but be sure to involve the police if any laws are broken.
Up Close: Taking Care of Business and the Soil
Jim Denys has a family swine corporation, Denys Farm Inc. and focus on preserving the soil through reducing erosion and building up organic matter.
Herd Health: Eliminating On-Farm PED Outbreaks: Part Two
Manitoba Porcine Epidemic Diarrhea (PED) cases are increasing. The initial steps to dealing with this disease involves biocontainment, laboratory confirmation, herd exposure and piglet euthanasia. Internal biosecurity is needed in barns, including disinfection and cleaning. Colostrum is crucial to the litters born after disinfection takes place. Manure spreading and marketing pigs are further discussed.
Prairie Swine Centre: Assessing Cleanliness of Swine Trailers
A significant risk for swine disease transmission is pig transportation. Most common is a visual inspection after cleaning the truck with some workers using the culture method as well to test its cleanliness, though the results take time to get back. ATP bioluminescence can be used as a rapid assessment tool to identify dirty areas of the trailer.
Pork News and Vies: Changes Under the Nutrient Management Act are Here!, New Swine Research Facility Announced, How Big is Your Pig? Determining the Size of Finisher Pigs, Replacement Gilts and Sows, Causes and Prevention of Sow Lameness, Are You Raising Hogs Without Antibiotics, 2019 Ontario Monthly Hog Market Facts and Swine Budget – June 2019
Changes under the Nutrient Management Act include removing the automatic expiration of nutrient management strategies every five years and includes lower-risk manures from non-farm grazing animals as Category 1 non-agricultural source materials.
A new Ontario swine research facility will be completed in the next three years. Its research will focus on nutrition, animal health, welfare, consumer-oriented research, genetics/genomics, environmental factors and reproduction.
Body weight should be known to ensure the correct diets are being fed. A platform scale can be used along with smart phone applications and body weigh tapes to do this. Body condition scores should also be known to optimize breeding herd performance.
The second most common reason for culling is sow lameness. There are many possible causes for lameness and prevention and early detection are crucial for treatment. Pigs need sufficient space with proper layout and flooring. Straw and rubber matts help reduce the incidence of lameness. Feeding systems and mixing sow strategies are also discussed.
The Prairie Swine Centre is looking for participants in a research project who are raising their pigs without antibiotics.
The Ontario monthly hog market fact and the June 2019 swine budget are provided.
Biosecurity: How to Safeguard Feed from Disease Risks
African swine fever outbreaks have caused many people in the pig industry to worry about biosecurity protocols. Feed safety is important and ingredients in the feed must be known. Make sure your supplier has a stringent quality control protocol. Quarantine your feed for the time and temperature specified to ensure that no virus is present.
Moe's Market Minute: Good News for U.S. Pork Exports
Tariffs were removed on steel and aluminum from Mexico and Canada to the U.S., but Donald Trump may impose tariffs on goods imported from Mexico if they do not take more steps to decrease illegal migration into the U.S.. At the beginning of the year, U.S. exports were down though they have increased since.
Second Look: Stats Help Us Root for Meanings
More accurate and fair judgements can be made when using statistics. Different statistical terms are discussed.
Better Pork August 2019 (full journal)