Better Pork October 2019
Articles in the October 2019 Better Pork Include: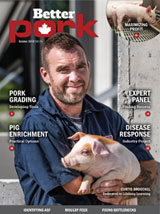 Beyond the Barn: Video Games Test Swine Disease Control Efforts, Keeping ASF Out of Canada, Producers See Red Over Markets
Farmers' risk attitudes are studied through a video game and how they respond to disease threats. This demonstrates how outbreak scenarios could look and helps scientists create better control and prevention strategies.
A Pan-Canadian action plan is being created to proactively manage African swine fever. The four pillars of action include preparedness and planning, enhanced biosecurity, ensure business continuity and coordinated risk communications.
Canadian pork prices have fallen over 40% due to the American market crashing from imposed tariffs. The Government of Canada should respond to strengthen the resiliency of Canada's pork production system.
Modernizing Pork's Grading System
Quality criteria are lacking in the Canadian pork grading system. Measurement tools would be more accurate, with technology like computer vision system that could identify meat quality. These systems include industrial cameras, a dome light and a computer that analyzes and grades pork. Meat quality traits are limited in pork and pork products are not consistent in quality so better tools are needed to assess these traits properly.
Pork Sector Success: Simple to Say, Harder to Achieve
A broker or consultancy group can help in risk management. Having a full staff is also important so employees are not stretched thin. Temporary foreign workers can be hired to help fill some of the gaps in labour. Nutrition is a large portion of the costs and should be managed properly to keep costs down but include all requirements for he pigs. Phase feeding may be useful in doing this. Biosecurity and efficiency are also important.
Up Close: Ongoing Learning in the Swine Sector
Curtis and Ashley Broeckel have a 600-sow farrow-to-finish barn in Ontario. They have transitioned 95% of their operation to loose housing and the children help in the barn as well.
Herd Health: How to Identify ASF in a Swine Herd
African swine fever mainly spreads through direct contact between sick and healthy animals or if a pig consumes infected pork products with symptoms appearing within 4 to 19 days. Scientists are currently researching how to develop a vaccine for this disease.
Swine Health Ontario: Disease Response Structure Established
The incident command centre has been established through Swine Health Ontario to help prepare for an animal disease emergency. The command centre has been partially activated for a year to identify gaps and produce solutions.
Prairie Swine Centre: Enrichment for Piglets
Aggression is decreased in piglets who are given enrichment and better growth and meat quality are also noted when enrichment is provided. Multiple enrichments should be present and they should be rotated in order to maintain novelty. Weaning stress is also reduced due to less fighting and they are more engaged with their surroundings and less fearful of humans. Hanging knotted cotton rope was the most popular enrichment used.
Nutrition: Does Mould Affect Swine Performance?
Maintaining the gut microbiota help maintain health and may be useful in raising pigs without antibiotics. Mouldy feed can form mycotoxins which have negative effects on pig health. Controlling mould growth helps decrease mycotoxin presence and increases the health of the pigs.
Pork News and Views: Reporting Wild Pigs in Ontario, The Value of Stockmanship, Step Up Your Farm's Biosecurity, Ontario Animal Health Network (OAHN) Swine Network Report, Helping High Risk Piglets in the Farrowing Room, 2019 Ontario Monthly Hog Market Facts and Swine Budget – August 2019
Wild pigs include wild boar, escaped domesticated pigs and any offspring in the wild. Wild pigs cause negative impacts on the environment and spread disease. All wild pigs seen need to be reported.
Management is one of the biggest factors contributing to variability between barns. Employees need to be properly trained to ensure efficiency in areas like detecting heat. Developing high quality stockmanship can help obtain high returns.
A 10 step guide to help implement an effective biosecurity plan is provided.
Producers should be looking out for Senecavirus A in Ontario. There are no new Porcine Epidemic Diarrhea cases in Ontario but it is still in Canada so remain vigilant.
Piglet birth weights are decreasing as litter size continues to increase. Low birth rate piglets are at high risk for mortality and extra care should be given. Piglets should be dried off with a heat lamp provided and access to the teat for colostrum as soon as possible. Colostrum is only available in the first 24 hours and piglets need a minimum of 100 ml. Energy boost products can also be provided. A creep area with heating should be present as well to protect piglets from crushing.
Ontario monthly hog market facts for 2019 and the swine budget for August 2019 are provided.
Production Strategies: Strategies for Maximum Profitability
Changing the strategy used to maximize profits when different scenarios occur can be beneficial. When pig or feed prices change, the focus may shift between biological outcomes and economic returns
Better Business: A Guide to Meeting With Your Ag Banker
The Canadian ag industry is having a decline in the number of agricultural operation and a more capital-intensive business environment. A business plan should be made to outline strategies and goals to grow the operation. Short-term and long-term financing and how to manage cash flow are discussed.
Moe's Market Minute: Kansas Fire Shook U.S. Livestock Markets
A beef processing plant was severely damaged in a fire in Kansas which could lead to an oversupply of cattle. Cattle futures have now stabilized. If this happened in the pork sector, the aftershock could be managed easier as the pork-packing industry is not as concentrated.
Second Look: Team Effort Helps to Identify Bottlenecks
Every barn has a bottleneck situation that needs to be fixed. Identifying and solving this issue can be difficult, but with other producers perspectives and input, it can be a lot easier.
Better Pork October 2019 (full journal)