Better Pork December 2019
Articles in the December 2019 Better Pork Include: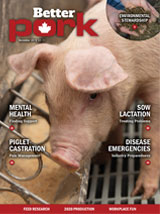 Beyond the Barn: Seneca Valley Virus Rears Its Ugly Head, U.S. Updates Slaughter Inspections, A New Approach to Vaccination
Seneca Valley Virus has clinical signs similar to reportable vesicular foreign animal disease like foot-and-mouth disease, swine vesicular disease and vesicular stomatitis. Since it looks so similar to these disease, federal authorities have to go through the testing problem, possibly shutting down a plant for a few days.
America's Food and Safety Inspection Service is modernizing its swine slaughter inspection process. Market hog establishments can choose if they want to use the New Swine Slaughter Inspection System or traditional methods. Microbial testing needs to be done to ensure pathogen control and written sanitary dressing plans need to be created to prevent food-borne illness.
A uterine vaccination technique is being studied at Saskatchewan's vaccine research facility VIDO-InterVac. This would occur during breeding as the sows freeze up making it safe to do so. Mucosal immune responses would be developed to diseases like porcine reproductive and respiratory syndrome virus.
Pork Producers Protect The Environment
Farmers follow the regulations to protect the environment and implement new research to use less natural resources. Manure management is monitored with protocols in place for spreading it. Funding programs help cover some costs associated with reducing the environmental footprints. Making feed more efficient is a priority as over half the carbon footprint from production is due to feed production. It is important for consumers to know that farmers are continuously trying new techniques to be more environmentally sustainable.
Support for Mental Health on the Farm
Greater mental health stress has been found in producers compared to the public. Stress and burnout are common due to disease threats, feed and pork prices fluctuating, consumer demands and trade issues. Mental health is still stigmatized, especially in rural areas where barns often are. Access to mental health resources can also be a challenge in rural communities. Incidents are often isolated and many aspects are uncontrollable in farming, so suicide prevention is needed in these communities.
Up Close: Hartland Hutterite Colony Leads by Example
Martin Waldner and his colony stay up to date with technological advancements in the swine sector and ag industry. Using new technology helps them farm sustainably with a carbon-neutralizing system in place. He manages a 600 sow farrow-to-finish operation. They produce most of their own feed and have successfully transitioned to group housing.
Herd Health: Understanding Sow Lactation Problems
Inadequate production of colostrum and milk post-farrowing is postpartum dysgalactia syndrome. This increases piglet mortality through starvation. Mastitis is a common cause, along with bacterial toxins or excessive body weight and feed intake. Symptoms, treatment and prevention are further discussed.
Swine Health Ontario: Ontario Swine Incident Command Centre 101
Ontario Swine Incident Command Centre (ICC) allows for efficient response to a disease entering the province. If an outbreak occurs, first call the veterinarian and then also Dr. Bethany Davidson-Eng of Swine Health Ontario. The ICC will provide information and support to producers after a suspected disease outbreak occurs. Humane depopulation and disposal protocols would be made available as well.
Swine Research: Methods to Manage Castration Pain
Cortisol levels can be reduced after castration by providing ketoprofen and meloxicam. Administering it an hour before the procedure is much more effective, with less cortisol found in 10 day old piglets compared to 3 day old piglets. The 10 day old piglets had a better response to the pain control as well.
Swine Innovation Porc: Helping Hogs to the Finish(ing) Line, Health Studies Proceed at Fever Pitch
Low energy feed provides a better return than high net energy diets. Precision feeding is also an option, with each pig receiving the nutrients it needs and reducing excess nutrients. Advancements in technology allow for this nd also reduces labour costs.
Genomics may help improve disease resilience in pigs. Serology is the study of blood serum and can be used to test fluids in the body for antibodies. A new procedure may allow for multiple swine pathogens being tested at once instead of separately.
Pork News and Views: The Bugs Have It: The Standardized Ileal Digestibility of Amino Acids in Black Soldier Fly Larvae Meal, Helping High Risk Piglets in the Farrowing Room, Heating and Ventilation System Monitoring & Maintenance Checklist, Realizing Production Potential, Resources Available from the London Swine Conference, Trends in Ontario Pork Production and Swine Budget – October 2019
Contributing to global food insecurity is animals eating plant-based diets. An alternative to plant-based protein like soybean meal for livestock is black soldier fly larvae (BSFL). They require less land, water and resources compared to plants. Full fat and defatted BSFL were examined to determine the standardized ileal digestibility of amino acid content. Crude protein concentration was 15% lower than the soybean meal. BSFL can be used as a substitute for soybean meal, but is still currently fairly expensive.
Cross fostering can be done to help the piglets from large litters have access to a teat. Some rules that should be followed when doing this are listed. Split suckling can be used when cross fostering is not an option. Raised decks can be used as a home for high risk piglets after day three, ensuring they have colostrum intake. Milk replacers, gruel, electrolytes and creep feeding are also discussed.
A monitoring and maintenance checklist for heating and ventilation systems is provided.
Optimal management of production can increase returns through avoiding sort loss and reaching an animals genetic potential. New measurement and control technologies can help pay attention to individual animals as well.
All of the conference proceedings from the London Swine Conference are available since 2001 on their website. Videos from some presentations are available as well.
Trends in Ontario pork production and the October 2019 swine budget are provided.
Nutrition: Reducing the Risk of Mycotoxins in Feed
Mycotoxins can have a detrimental effect on livestock performance if they ingest it. Feed additives may be used to help decrease absorption of the mycotoxins. Aluminosilicate feed additives can target specific mycotoxins to help improve herd health and performance.
Moe's Market Minute: Shifts in 2020 Global Pork Production
China's swine herd has been reduced by half due to African swine fever outbreaks and Europe is now being hit by the disease as well. 2020 global pork production is falling due to this disease, though American production is at a record high. Tariffs are still in place for China, but due to prices American pork products are still competitive. China's pork intake may drop due to higher prices and it is unknown if it will recover.
Second Look: The Importance of Having Fun at Work
Fun at work is important to reduce stress and have creative thinking. Humour increases morale and reduces employee turnover as well. Information processing and the immune system receive boosts from laughter and blood pressure is decreased. Animals are more productive when around staff that are in a good mood too.
Better Pork December 2019 (full journal)