Better Pork February 2020
Articles in the February 2020 Better Pork Include: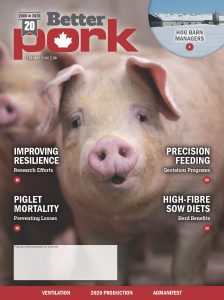 Beyond the Barn: USMCA: Much Ado About Something for Producers, Ontario Updates Animal Welfare Bill, Stakeholders Brace for Risk of ASF
The United States-Mexico-Canada Agreement has been signed. Canadian pork farmers are competing for scarce resources like land. Pork producers should talk with politicians about the importance of a level playing field and the agreements implications on the farmers' bottom line.
New updates for the animal welfare bill focus on transparency and accountability to ensure animals are being treated properly. Biosecurity protocols will continue to be respected.
Swine researchers are working to keep African swine fever (ASF) out of North America and to prepare in case an outbreak occurs. A team from Swine Health Information Center toured farms in Vietnam to answer some questions about ASF.
Hog Barn Managers: The Glue That Holds the Vision to Reality
Production levels in the Canadian swine sector are expected to increase over the next decade. Hog barn managers are essential and have many responsibilities so they should be well qualified for the job. Skills and qualities needed for a successful barn manager are discussed along with benefits, challenges and job opportunities.
The Quest to 'Pork Up' Swine Resiliency
The ability for the pig to maintain performance or productivity when faced with stressors or disease is known as resiliency. It involves environmental conditions and disease spread. Proper biosecurity protocols are essential and breeding for pigs with higher disease resilience is possible.
Up Close: Passion for Pigs Drives Farm Success
Herbie Stahl is the hog barn manager for the Downie Lake Hutterite Colony in Saskatchewan. The farm has a pork and cattle operation with crop cultivation as well. The pork operation uses electronic sow feeders and are raised without antibiotics certified.
Herd Health: Ways to Reduce Pre-Weaning Mortality
Economic loss can be high due to pre-weaning mortality. Larger litter sizes often contribute to higher pre-weaning mortality, but loses can be prevented through proper management. Tips are discussed to help reduce the mortality rates, including not breeding gilts less than 135 kg (297 lbs), monitoring body weight and nutrition, check sows during farrowing, ensure colostrum intake, have heat sources and dry the piglets as well.
Swine Health Ontario: Swine System Ups Industry Responsiveness
Improvements are being made to Ontario Pork's electronic manifesting system to automate pig movement tracking. This AgManifest system reports daily to the national movement database PigTrace. Once this system is linked to Ontario Area Regional Control and Elimination disease mapping system, disease status can be known and disease spread can be reduced.
Swine Research: High-Fibre Diets Offer Herd Benefits
Animal welfare is improved when sows are provided high-fibre diets in gestation and lactation. Satiety is increased in feed-restrictive sows and so is production in litter size and weaning weight. Oat straw, but not wheat straw, enhanced sow physiology and provided benefits for gestating sows.
Ventilation Options for your Pig Barns
A dual or hybrid ventilation system has tighter temperature in the winter compared to an all-natural system. If designed properly, either system is a viable option for pig barns.
Pork News and Views: Fencing for Outdoor Pig Production – Protecting Your Livestock and the Environment, 2019 Ontario Monthly Hog Market Facts, 2019 U.S. Monthly Hog Market Facts, Swine Budget – Average 2019 and December 2019
Preventing outdoor pigs from escaping is important  in order to not loose revenue and to not expand the feral population. Proper fencing protects your pigs and reduces risk of escape. Duration of access and size of the pig are important consideration to make. Fencing types are further discussed.
Ontario and U.S. monthly hog market facts for 2019 are provided
The average swine budget and the December swine budget for 2019 are provided.
Nutrition: Research Advances Precision Feeding
Usually a single diet is applied to gestating sows. First-parity sows and older sows have different nutritional requirements. Precision feeding is now an option to provide the precise amount of nutrients needed for individual sows. It increases maternal body weight gain in late gestation as the nutrient and energy requirements are greatest then.
Moe's Market Minute: Shift in U.S. Pork Production Expected
There is an increase in hog production and demand, though the trade war between America and China as deterred pork exports to assist with their lack of pork due to African Swine Fever. The European Union id benefitting the most out of China's demand for pork so far. U.S. pork exports are expected to improve over the next six months.
Second Look: Perseverance often Pays Off in Business
Persevering through problems that may arise in the pork industry can pay out in the long term.
Better Pork February 2020 (full journal)