Canadian Hog Journal Winter 2017
Articles in the Winter 2017 Canadian Hog Journal Include: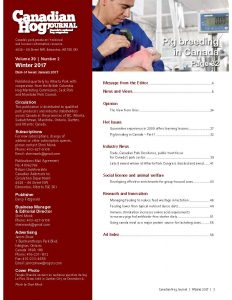 Hot Issues: Quarantine Experience in 2009 Offers Learning Lessons, Pig Breeding in Canada
H1N1 influenza threatened Canadian swine in 2009 and infected farms were placed under quarantine which resulted in cullings. Looking back, this situation was unnecessary. Better responses from the government in regard to disease outbreaks need to be put into place.
The Canadian Animal Genetics Resources program is collecting samples of eggs and sperm in purebred Canadian livestock to create a germplasm repository. Relationships with the breeds can be made and genetic diversity can be preserved.
Industry News: Trade, Canadian Pork Excellence, Public Trust Focus for Canada's Pork Sector, Latest Award Winner at Alberta Pork Congress Shocked and Awed
Trade and Canadian Pork Excellence are discussed. The swine industry needs to become more sustainable while continuing with transparency in order to continue pleasing the public.
Murray Roeske won the 2016 Industry Ambassador Award
Social Licence and Animal Welfare: Developing Effective Enrichments for Group-Housed Sows
Aggression, stress, fear and boredom can be reduced by providing enrichment. In group-housed sows, the use of pen space increased and the preferred enrichment rotated or was straw.
Research and Innovation: Managing Feeding to Reduce Feed Wastage in Lactation, Feeding Lower than Typical Nutrient Dense Diets Based on Barley or Wheat Grain to Weaned Pigs, Immune Stimulation Increases Amino Acid Requirements in Nursery Pigs Fed Antibiotic-Free Starter Diets, Using Canola Meal as a Major Protein Source for Lactating Sows
Different feed systems result in differing amounts of feed wastage. Productivity remains similar across feed types, though feed wastage is highest in manual feeding. Electronic or modified feed systems save costs on feed.
Barley-based diets had a better feed efficiency and growth on weaned pigs compared to wheat-based diets. As long as pigs maintain feed intake, lower nutrient density and including more barley in diets can be done.
To reduce pathogenic infections, clean sanitary conditions in nurseries are crucial. Higher dietary threonine:lysine and tryptophan:lysine requirements are needed when fed antimicrobial growth promotors in sub-optimal sanitary conditions. In unfavourable health conditions, maintaining good performance can be done by ensuring adequate amino acids are in antimicrobial growth promotor starter diets.
Inclusion of up to 30% canola meal in lactating sows can support performance when the diet is based on net energy and standardized ileal digestible amino acid systems.
Winter-2017 (full journal)