Canadian Hog Journal Winter 2020
Articles in the Winter 2020 Canadian Hog Journal Include: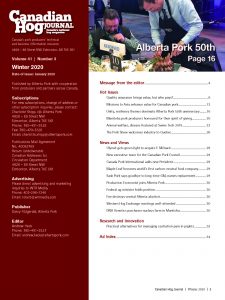 Hot Issues: Quality Assurance Brings Value but Who Pays?, Missions to Asia Enhance Value for Canadian Pork, Unity, Resiliency Themes Dominate Alberta Pork 50th Anniversary, Manitoba Pork Producers Honoured for their Spirit of Giving, Animal Welfare, Disease Featured at Swine Tech 2019, The Pork Show Welcomes Industry to Quebec
Quality assurance programs often add costs for the consumer and for each stakeholder in the value chain. Overhead costs for the Canadian Pork Excellence (CPE) program have gone unaddressed by most processors in Western Canada. Producers demand compensation for participating in CPE.
Canadian pork industry representatives visited Japan to promote Verified Canadian Pork from the quality assurance program Canadian Pork Excellence.
The 50th anniversary of Alberta Pork's annual general meeting was in November 2019.
Manitoba Pork is the recipient of Manitoba's 2019 Outstanding Contribution to Philanthropy Award.
The wild pig population is continuing to worsen which is worrisome for disease epidemics. Colostrum needs to be delivered to piglets as soon as possible after birth or mortality increases. Aggression from sows can be increased when a dominance hierarchy is poorly formed. Mycotoxins are increasing in the worlds grain, causing performance to decrease in livestock. Machine learning artificial intelligence can be used to reduce crushing of piglets and to monitor the pig herd using smart tags.
The Pork Show in 2019 was in old Quebec City.
News and Views: Olymel Gets Green Light to Aquire F. Menard, New Executive Team for the Canadian Pork Council, Canada Pork International Adds New President, Maple Leaf Becomes World's First Carbon-Neutral Food Company, Sask Pork Says Goodbye to Long-Time GM, Names Replacement, Production Economist Joins Alberta Pork, Federal Ag Minister Holds Position, Fire Destroys Central Alberta Abattoir, Western Hog Exchange Meetings Well-Attended, DNA Genetics Purchases Nucleus Farm in Manitoba
All the assets from the company F. Menard are going to Olymel.
A new executive team has been formed for the Canadian Pork Council starting January 2020.
Canada Pork International welcomes the new president Trevor Sears.
 Maple Leaf has reduced energy use in order to reach a carbon neutral status.
Neil Ketilson has retired from Sask Pork, with Mark Ferguson becoming the new General Manager.
Alberta Pork's new Production Economist is Bijon Brown.
Marie-Claude Bibeau maintains position in the Liberal government cabinet.
Family Meats slaughter facility in Alberta was destroyed by fire, with all animals being saved.
The Western Hog Exchange is urging producers to refrain from signing contracts in order to fight for fair compensation.
DNA Genetics has purchased a genetic nucleus farm in Manitoba. It will be populated with Landrace, Duroc and Yorkshire.
Research and Innovation: Practical Alternatives for Managing Castration Pain in Piglets
Both ketoprofen and meloxicam reduce cortisol levels during castration, with providing it an hour before being more effective. Lower cortisol levels were also noted for castration occurring at day 10 instead of day 3.
Canadian Hog Journal – Winter 2020 (full journal)