Canadian Hog Journal Fall 2020
Articles in the Fall 2020 Canadian Hog Journal Include: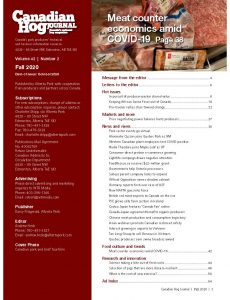 Hot Issues: In Pursuit of Producer-Packer Shared Value, Keeping African Swine Fever out of Canada, Pro-Trucker Rallies Steer Towards Change
Meetings between producers and packers took place virtually. Olymel is adding bonuses but demands certification from the Canadian Pork Excellence program. Maple Leaf discussed price and extended contracts. Donald's Fine Foods created a floor price to help the current pricing situation. Hylife is the leader in producer support so they were not invited to the meeting. Transparency is needed between producers, processors and retailers.
The biggest risk for African Swine Fever to Canada is through meat products brought into the country and insufficient on-farm biosecurity protocols. Increasing the ability to detect African Swine Fever is being looked at as well. Zoning arrangements have been confirmed so that pork trading can still happen if an outbreak occurred.
Laws to prevent on-farm trespassing have been passed to prevent animal rights activists from breaking and entering into the barns, breaching biosecurity protocols. Regulations are being constantly updated to ensure animal welfare is taken into account in the livestock industry. A death has occurred as a result from these protests with a women coming into the path of a truck delivering pigs. A pro-trucker group has formed to stand up the harassment they have received.
Markets and More: Price Negotiating Power Balance Hurts Producers
The packers have the power in the business relationship between them and producers. Cost of production is increasing with inflation, but producers prices have not changed. Forming a marketing cooperative could increase  the bargaining power. Quebec's model involves single-desk marketing and an objective arbitrator to help with negotiations; this seems to work a lot better. Prices are linked to the U.S. which also does not always work.
News and Views: Pork Sector Events go Virtual, Alexandre Cusson Joins Quebec Pork as GM, Western Canadian Plant Employees Test COVID-Positive, Nadia Theodore Joins Maple Leaf as VP, Consumer-Direct Protein E-Commerce Growing, Lightlife Campaign Draws Negative Attention, FoodResue.ca Receives $22-million Grant, Governments Help Ontario Processors, Sobeys Parent Company Looks to Expand, Official Opposition Names Shadow Cabinet, Germany Reports First-Ever Case of ASF, New NAFTA Goes Into Force, British Red Meat Exports to Canada on the Rise, PIC Grows Elite Farm System in Ireland, Costco Japan Features 'Canada Fair' Online, Canada-Japan Agreement Benefits Organic Producers, Chinese Meat Production and Consumption Trajectory, Asian Webinars Promote Canadian Red Meat Safety, Interest Growing in Exports to Vietnam, Tan Long Group to Sell Genesus in Vietnam, Quebec Producers Earn Swine Breeders Award
Le Porc Show, the Quebec annual meeting and the Banff Pork Seminar are virtual this year due to COVID-19.
Alexandre Cusson is the new General Manager of Quebec Pork.
Maple Leaf Foods pork processing facility in Brandon and Olymel in Red Deer have had COVID-19 outbreaks, so meat exports to China have been temporarily suspended.
Nadia Theodore is the new Vice President of Global Industry and Government Relations at Maple Leaf Foods.
A new digital application "Meatocracy" will provide meat purchasing online directly from farmers in the community.
A new Lightlife (U.S. Maple Leaf's plant-based food brand) campaign was launched, focusing on how its products are more natural than their competitors. This have been viewed as damaging to the plant-based movement and dishonest.
The Canadian Produce Marketing Association and Second Harvest received $22 million grant to support Canadian food security through the Surplus Food Rescue Program.
To increase labour productivity and enable better access to markets, $5.4 million was provided to Ontario food processing businesses.
Empire Company Ltd. has announced a 3 year, $500 million project to grow business.
Lianne Rood is the new shadow minister for Agriculture and Agri-Food.
African Swine Fever has been identified in a wild boar in Germany, causing pork imports from Germany to be banned from many countries.
North American Free Trade Agreement has been replaced with the Canada-U.S.-Mexico trade agreement.
Exports of red meat to Canada from the U.K continue to rise.
Hermitage Genetics flagship farm in Ireland has gained 1,000 gilts and boars from the U.S. to become PIC's newest elite farm.
Costco Japan now has 'Canada Fair' as an online feature to show products of Canadian origin
Canadian certified organic livestock products can now be exported to Japan.
Domestic pork production is still decreasing in China. In order to control carbon emissions and reduce obesity, the Chinese government is planning to halve meat consumption.
Webinars were presented to Chinese and Japanese importers to demonstrate the COVID-19 measures taken to ensure red meat is safe.
Vietnam is a potential export market for Canadian pork as their livestock has been affected by African Swine Fever.
Genesus has partnered with the Vietnam Agricultural Joint Stock Company, with Tan Long Group representing its products in Vietnam.
Celine Bolduc and Jacques Poulin were awarded the Breeders' Merit Award during the Canadian Centre for Swine Improvement annual general meeting.
Food Culture and Trends: Meat Counter Economics amid COVID-19
Initially meat shortages were seen due to COVID-19 with both the economy and supply and demand being hit hard. Supplying food has become more difficult and expensive as new cleaning protocols and higher salaries are put into place. Canadian families are likely to spend more of their budget on food due to higher prices and food delivery fees. Meat consumption has not changed, though chicken and pork may be a more budget-friendly option.
Research and Innovation: Science Taking  Bite out of Feed Costs, Selection of Pigs that are More Disease-Resilient, What is the Cost of Sow Exercise?
New strategies for reducing feed costs are discussed. Novel feed additives are being used to replace antibiotics such as probiotics, antimicrobial peptide, enzymes and phytochemicals.
Pork is the most consumed animal protein in the world but many diseases can affect the production. A specialized disease challenge facility can be used to collect resilience phenotype data. Genetic improvement of resilience to disease and stressors can be done by incorporating indicator traits.
Sows and gilts have motivation to leave the stall, but were also motivated to receive feed. Older parity sows benefitted from 10 minutes of exercise once a week, with less stillborns noted. Group housing has similar effects as exercising sows. Money spent may be better used when re-investing in the facility rather than labour costs.