Canadian Hog Journal Summer 2020
Articles in the Summer 2020 Canadian Hog Journal Include: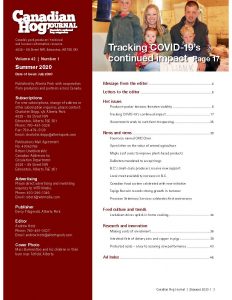 Hot Issues: Producer-Packer Tensions Threaten Viability, Tracking COVID-19's Continued Impact, Governments Work to Curb Farm Trespassing
Producers and packers continue to have a lopsided relationship in favour of processing. Loans are more available in Canada for companies that have lowered their carbon footprint. Producers are asking for a financial reason to produce pigs. Hylife has new premiums to reward producers.
The industry is beginning to bounce back after restrictions are lifted. Government support is still needed as COVID-19 is ongoing, but not much was given. So far in Canada, two plant shutdowns have occurred in the pork industry.
Calls for anti-trespassing laws to protect producers are being made. This is due to incidences of animal rights activists trespassing, breaking and entering. These new laws do not include undercover employees.
News and Views: Fournaise Named CMC Chair, Open Letter on the Value of Animal Agriculture, B.C.'s Small Scale Producers Receive New Support, DuBreton Mandated to Accept Hogs, Canadian Food System Celebrated with New Initiative, Maple Leaf Seeks to Improve Plant-Based Products, Local Meat Availability Increases in B.C.,Topigs Norsvin Records Strong Growth in Turnover, Precision Veterinary Services Celebrates First Anniversary
Dr. Sylvain Fournaise is the new Chair of the Canadian Meat Council.
An open letter pleads for increased appreciation and understanding of animal agriculture and its positive impacts on global health and nutrition.
B.C. Pork released its 'Small Lot Pork Producer Management and Production" manual.
DuBreton's decision to reduce slaughter capacity was overturned.
A new initiative by the Canadian Centre for Food Integrity is "It's Good Canada", focusing on safety, accessibility and affordability of food for Canadians.
Consumers want to recognize what is in their plant-based food. Good taste and simple ingredients are in high demand.
Restaurants and retail outlets will have more local meat availability to establish a more resilient food system.
Topigs Norsin's turnover has grown by 21% in 2019.
Red Deer, Alberta's Precision Veterinary Services had its first anniversary.
Food Culture and Trends: Lockdown Drives Uptick in Home Cooking
More time is being spent cooking as people are encouraged to stay home ad take-away and restaurant options are reduced. Social media offers many options for learning new recipes.
Research and Innovation: Making Cents of Enrichment, Intestinal Fate of Dietary Zinc and Copper in Pigs, Protected Acids – A Key to Assuring Sow Performance
Enrichments reduce abnormal maladaptive behaviour, aggression and stress while increasing animal performance, positive use of space and the ability to deal with challenges normally. It is an economically viable option for swine operations.
Organic zinc is better absorbed after a meal, whereas copper is not impacted by the dietary source. Dietary equilibrium must be met between zinc and copper with a ratio of zinc:copper 120:8 to optimize absorption.
Acidifiers can enhance growth performance through improving nutrient digestibility, but only the dietary pH is lowered, not the intestinal or gastric pH. Protected acids are coated by microencapsulation allowing delivery to the hindgut and proving stronger bacteriastatic and bacteriocidal effects. This technique can improve sows' weaning performance and fertility.