Canadian Hog Journal Spring 2019
Articles in the Spring 2019 Canadian Hog Journal Include: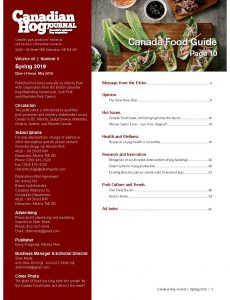 Hot Issues: Canada Food Guide Isn't Bringing Home the Bacon, African Swine Fever – Can it Be Stopped?
Changes have been made to the Canada Food Guide with only three food groups now, with milk and meat combined into 'protein'. Plant-based protein is emphasized as well.
Transmission of African Swine Fever  is through direct contact with infected pigs, ticks or stable flies, but indirect transmission is the fastest form. There is no vaccine or treatment and highly virulent strains have 100% mortality. It survives well in soy products and can be transmitted through feed, so feed from overseas should be quarantined.
Health and Wellness: Research on Pig Health is Irresistible
Application of genomics can be used to improve disease resilience in pigs. Animals in high health environments are often used for their genetics, but more research needs to be done to see if resilience is noted in commercial herds.
Research and Innovation: Mitigation of Accelerated Deterioration of Pig Buildings, Smart Systems in Pig Production, Feeding Brassica juncea Canola Cake to Weaned Pigs
Most buildings in the Canadian pork industry are between 20-30 years old. Deterioration increases when exposure to moisture and  corrosive gases increase. Surface treatments, new ventilation system, control and maintenance can mitigate this.
A smart barn control system is being developed that can regulate the temperature and ventilator systems, with data-tracking and alarm systems as well. More new technology includes real-time sow estrus monitoring, biosecurity tracking using bluetooth, detecting respiratory problems through audio monitoring, neonatal crush death detection and protection, voice-enabled data entry, weighing pigs via real-time image processing, medical treatment monitoring using wifi, bluetooth and RFID tags  and real-time GPS-based feed traceability via geofences.
Increasing feeding inclusions of yellow-seeded Brassica juncea cake up to 24% when substituting for soybean meal for weaned pigs maximized weight gain at 18% and feed intake at 12% inclusion. This is a cheaper alternative to soybean meal-only nursery diets.
Pork Culture and Trends: Your Daily Bacon, Greta's Grubs
Amusing stories of pigs are discussed.
Recipes for meals including pork are described.