Canadian Hog Journal Summer 2019
Articles in the Summer 2019 Canadian Hog Journal Include: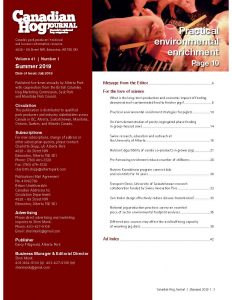 For the Love of Science:
What is the Long-Term Production and Economic Impact of Feeding Deoxynivalenol-Contaminated Feed to Finisher Pigs?
Mycotoxins continue to be a concern for agriculture. It may be possible to feed diets with higher levels of DON than currently recommended, but adjustments may be needed for reduced performance.
Practical Environment Enrichment Strategies for Piglets
Less pen-mate manipulation such as tail-biting, ear-biting and belly-nosing was noted after piglets were given enrichment before weaning.
On-Farm Demonstration of Parity-Segregated Phase Feeding in Group-Housed Sows
Overfeeding is minimized in parity-segregated phase feeding of gestation sows. Reducing excess nutrients saves feeding costs of $5/sow per year.
Swine Research, Education and Outreach at the University of Alberta
Ongoing research at the University of Alberta in the Department of Agricultural, Food and Nutritional Science includes swine health and immunity, pork quality and animal welfare, genomic-based tools, feedstuff evaluation and biomedical research.
Nutrient Digestibility of Canola Co-Products in Grower Pigs
Brassica juncea canola meal had higher energy digestibility and net energy value than Brassica napus. B. napus canola expeller had greater amino acid and energy digestibility than B. napus canola meal. B. napus canola press-cake had lower protein digestibility and content than canola meal.
Pre-Farrowing Enrichment Reduces Number of Stillborns
Providing burlap enrichment to gilts and sows in their farrowing crates may result in one extra piglet produced for every four litters. For every $1 spent on burlap, $3 would be returned in piglet value.
Nutrien Kamskenow Program Connects Kids and Scientists for 10 Years
This program has brought hands-on science and math activities to Saskatoon community schools to encourage Indigenous groups to consider further education and careers in science for 10 years.
Transport Genie, University of Saskatchewan Research Collaboration Funded by Swine Innovation Porc
Improving biosecurity in the swine transport industry is being examined through technology that disinfects and cleans trailers effectively, quickly and affordably. Dry heating to 75 degrees Celsius eliminates many swine pathogens.
Can Trailer Design Effectively Reduce Disease Transmission?
A prototype air-filtered trailer was designed and assembled to address increased biosecurity and animal welfare during transport.
National Pig Production Practices Survey an Essential Piece of Sector Environmental Footprint Analyses
This project will establish the current environmental footprint and efficiency of Canadian pig production. The survey is online and will be launched in late Fall 2019.
Different Zinc Sources May Affect the Acid Buffering Capacity of Weanling Pig Diets
Zinc chloride,  zinc glycinate, zinc sulfate monohydrate and nanonized zinc oxide can be used as dietary zinc sources since they have low acid-binding capacity and buffering capacity. The efficacy of zinc oxide can be improved with new cost-effective technologies like organic minerals, microencapsulation and nanotechnology.