Canadian Hog Journal Fall 2019
Articles in the Fall 2019 Canadian Hog Journal Include: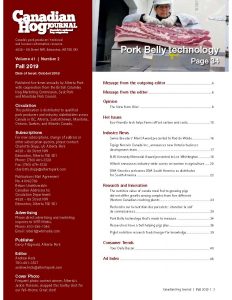 Hot Issues: Eco-Friendly Tech Helps Farms Offset Carbon and Costs
A new heat recovery unit helps improve operational profitability and self-reliance. Combined heat and power generates electricity and heat at the same time.
Industry News: Swine Breeders' Merit Award Presented to Rod de Wolde, Topigs Norsvin Canada Inc., Announces New Ontario Business Development Team, B. W. Kennedy Memorial Award Presented to Lee Whittington, Alltech Announces Industry-Wide Survey on Women in Agriculture, DNA Genetics Welcomes DNA South America as Distributor for South America
Rod de Wolde Received the Swine Breeders' Merit Award at the annual general meeting for the Canadian Centre for Swine Improvement. He and his family started BMR Genetics.
Veronica Anderson has joined the Ontario Business Development team at Topigs Norsvin Canada Inc.
At the annual general meeting for the Canadian Centre for Swine Improvement, Lee Whittington was awarded the B. W. Kennedy Memorial Award.
The gender gap in food and agriculture industries is extensive. An industry-wide survey is launching in September to collect feedback on barriers  and resources needed to achieve workplace equality.
DNA South America is now the exclusive distributor of genetics to South America.
Research and Innovation: The Nutritive Value of Canola Meal Fed to Growing Pigs did not Differ Greatly Among Samples from Five Different Western Canadian Crushing Plants, Recherche sur la Nutrition des Porcelets : Etancher la Soif de Connaissances, Pork Belly Technology That's Made to Measure, Researchers Have a Ball Helping Pigs Play, Piglet Nutrition Research Feeds Hunger for Knowledge
Canola meal samples vary slightly in nutrient composition, especially fibre and protein throughout Western Canada. As these relate to energy value and digestible amino acid content, fibre and protein should be monitored.
Nutrition des nouveau-nés, facteur de croissance épidermique, nutrition postsevrage, postsevrage : rations simples et complexes et diarrhée postsevrage sont discutés.
A new system for sorting pork bellies is being looked into and may be developed into an automated commercial system.
Accelerometers are being used to investigate behaviour of pigs with enrichment objects. Objects that can be manipulated and partially destroyed, such as wood,  stimulate pigs more and keep them engaged longer.
Pulse grains were investigated as a possible cheaper option for feed. They are being researched in nursery pigs to replace soybean meal.
Consumer Trends: Your Daily Bacon
History and legends about pigs are discussed.