Canadian Hog Journal Winter 2019
Articles in the Winter 2019 Canadian Hog Journal Include: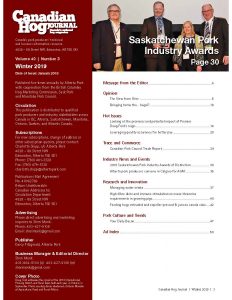 Hot Issues: Looking at the Promises and Potential Impact of Premier Doug Ford's Reign, Leveraging Quality Assurance for Better Pay
Ontario Pork is encouraged that Doug Ford wants to work with farmers. One of the promises involve annual funding of $50 million to the Risk Management Program and the provincial carbon cap and trade program has been eliminated.
Alberta Pork is only participating in the Canadian Pork Excellence (CPE) program if per head of CPE validated hogs gets an additional $7 from the packers. Producers do not seem to gain from these programs, it seems as though the packing plants do.
Trade and Commerce: Canadian Pork Council Trade Report
The Canadian Pork Council Trade Report is Posted
Industry and News: 2018 Saskatchewan Pork Industry Awards of Distinction, Alberta Pork Producers Convene in Calgary for AGM
Dr. Mark Jacobson of Warman Veterinary Services received a lifetime achievement award along with Lee Whittington, the former CEO of the Prairie Swine Centre.
Alberta Pork's annual general meeting occurred in November.
Research and Innovation: Managing Water Intake, High-Fibre Diets and Immune Stimulation Increase Threonine Requirements in Growing Pigs, Feeding Hogs Extruded and Expeller-Pressed B. juncea Canola Cake
Drinker type and management has a large effect on water wastage. Well-managed nipple drinkers can have the same low water wastage as bowl drinkers if managed properly. Ensure to adjust the flow rates to the correct amount.
During an immune challenge in pigs, threonine requirements increase. Fibre and immune stimulation have interactive effects. This helps in creating feed programs with a lower cost and less reliance on antibiotics.
B. juncea  fed in inclusions up to 20% reduced growth performance by reducing feed intake. This is likely due to the glucosinolate that is bitter in taste.  5-10% extruded and expeller-pressed B. juncea canola cake should be the maximum fed to hogs.
Pork Culture and Trends: Your Daily Bacon
Stories about pork crimes are discussed.