Canadian Hog Journal Banff 2020
Articles in the Banff 2020 Canadian Hog Journal Include: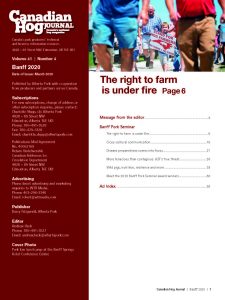 The Right to Farm is Under Fire
Studies publishing results that make swine farming seem like a risk to the public are being spread, even though the information is inaccurate. Lots of lawsuits are currently ongoing in the United States.
Communicating with the Cross-Cultural Advantage
Diversity nd inclusion in the intercultural workplace are discussed. Different styles of communication can be used and can be accomplished using different platforms.
Disease Preparedness Comes into Focus
Disease prevention strategies and disease response management were introduced. Canadian Pork Council is preparing for African Swine Fever to spread awareness and address exported feed risk. Research is ongoing to make a vaccine for this disease.
African Swine Fever's True Threat
African Swine Fever is one of the most important threats to the global pig farming sector. it has low contagiosity so it is often not noticed at the beginning of an outbreak. Targeted testing of sick and dead animals should be enhanced in ASF-restricted and risk areas.
Wild Pigs, Nutrition, Resilience and More
Canada's wild boar presence has potential for environmental destruction, disease transmissions and threats to livestock. More leadership is needed to eradicate this invasive species.
Market hog weight continues to increase which may require adjustments to nutrition programs, production facilities, transportation and processing facilities.
A good gilt program is needed to optimize sow and lifetime productivity.
Disease resilience is highly heritable, so genetic selection can be used to improve it.
Smart technology for livestock farming is discussed.
Canadian Hog Journal – Banff 2020 (full journal)