Better Pork August 2020
Articles in the August 2020 Better Pork Include: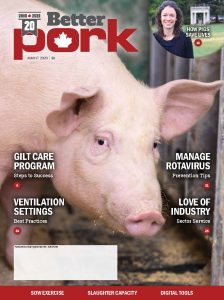 Beyond the Barn: Stricter U.S. Ruling Needed for Cull Sow Movement, Mysterious Rash Appears on Sows, Swine Researchers Battle S. Suis
Stricter rules are needed on how long cull sows can remain in the U.S. marketing channel to reduce disease risk and improve animal welfare.
A purple rash on pigs bellies and legs is being seen for a week and then disappearing with no diagnosis found. A survey is being done to see if more research needs to look into it in case it is porcine circovirus.
S. suis has many phenotypes so it is hard to eliminate. It can be treated with antibiotics or prevented with autogenous vaccines. A new vaccine is being researched that is for several strains.
Boost Your Gilt Development Program
In order to optimize herd lifetime performance, good management is needed in the gilts' first cycles. The right gilts must be selected to reduce turnover. A guide to gilt management including breeding success and nutrition is discussed.
How Scientists Use Pigs to Save Lives
The pigs is an ideal biomedical model as its organs are around the same size as a humans and they live longer than rodents. Pigs and humans have similar DNA and can be affected by the same diseases so any drug or device that works in a pig has a high likelihood it will also work in a human. Commercial pigs grow too quickly to be used as a proper human model so mini pigs are often used. This research is crucial to advancing human medicine.
Up Close: Dedicated to Helping Pork Producers
Graeme McDermid has been involved in the swine industry his whole life. He is currently leading the service group for South West Ontario Veterinary Services but has had many different positions in the swine industry.
Herd Health: How to Identify and Manage Rotavirus
Rotavirus can cause scours in piglets and contributes to pre-weaning mortality. They become infected through oral contact with contaminated feces. Symptoms, diagnosis, treatment, prevention and control are discussed.
Swine Health Ontario: It's All in the Air: Proper Settings
Pig health is significantly affected by good air flow and clean air. Issues with ventilation can lead to disease and exacerbate management problems. Tips for proper maintenance and best practices for ventilation systems are provided.
Swine Research: Cost Considerations for Sow Exercise
Mated gilts and sows can remain in stall barns if they can turn around or exercise periodically. Older parity sows who exercise weekly had benefits such as more liveborn piglets. The money spent on labour to exercise pigs may be better spent investing in the facility, like to create a group-housed sow facility.
Data at Work: Digital Tools Can Help With Decisions
Digital tools like benchmarking systems, economic and biological models can be used by producers to integrate information. This is especially useful to see how COVID-19 may impact business finances and how to mitigate risk.
Pork News and Views: How to Avoid Production Losses in Swine Due to Heat Stress, Cost of Production – Using It, Planning With It, OAHN Swine Small Scale Herd Postmortem Project, Porcine Epidemic Diarrhea Virus in Ontario Update, 2020 Ontario Monthly Hog Market Facts and Swine Budget – June 2020
It can be difficult to avoid high temperatures in the barn, but measures need to be taken to improve animal welfare and finances. When and how heat stress occur, along with signs, how to cope with heat stress, how to be prepared and transportation are discussed further.
Cost of production should be known in order to use it as a planning tool to increase farm value through farm decisions.
A new study focused on identifying disease issue in small scale Ontario swine herds is being conducted through the Ontario Animal Health Network. Enrollment is done through the herd veterinarian.
New sites are having Porcine Epidemic Diarrhea virus in Ontario. OMAFRA will no longer be following PEDV investigations.
The Ontario monthly hog market facts for 2020 and the swine budget for June 2020 are provided.
Moe's Market Minute: U.S. Pork Slaughter Capacity Recovers
The pork sector was hit hard by the COVID-19 pandemic. Outbreaks led to a back-up of market ready hogs since hog slaughter plants had to close. Many pigs had to be euthanized due to the back-up. Slaughtering rates recovered soon after and retail demand for pork increased prices.
Second Look: Thoughts on Scale in the Pork Industry
Organizations continue to grow, but bigger is not always better. Inefficiencies can be increased and so can risk. Take into mind the consumers mindset and also possible labour shortages before expanding your barn.
Better Pork August 2020 (full journal)