Better Pork June 2020
Articles in the June 2020 Better Pork Include: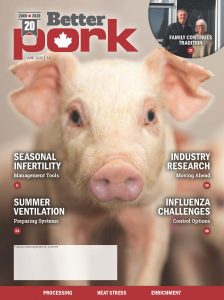 Beyond the Barn: Scientists Aim to Boost Piglet Performance, Risk Management Pilot Underway, Preparing Pork this BBQ Season
Micronutrient supplementation may help improve piglet growth and development. Oral supplements to the sow during gestation and lactation altered the piglets microbiome. The micronutrient status improved, but growth performance was not affected.
A pilot risk management tool to help producers recover from instances like disease outbreaks is being developed. Insurers are calculating a premium that provides coverage and is affordable.
Butterflied pork steak or pork chop is becoming more popular. An award winning BBQ sauce recipe is provided.
How to Reduce Seasonal Effects on Sow's Fertility
Animals in more comfortable environments will perform better than stressed animals. Seasonal infertility often occurs in the summer, mainly due to higher humidity and temperatures, but the length of day may also contribute. Rectal temperatures and breathing rates should be monitored to watch for heat stress. Susceptible sows, economic effects and preventative measures are further discussed.
The Logistics and Ethics of Swine Research
Animal welfare must be considered in the experimental design and there must be merit to the study in order for researchers to begin their experiment. The Canadian Council on Animal Care has animal ethics and care standards institutions must meet. The committee considers replacement, reduction and refinement principles. Research can also be conducted at commercial farms to ensure the results are practical. Types of research and next steps are further discussed.
Up Close: The Love of Farming and Feeding Others
Janus and Diana de Bekker and their sons run Yorkland Farms Ltd., a cash crop and pork operation. Most of the feed is produced for the pigs. They are slowly transitioning the farm to their sons.
Herd Health: Piglet Processing Technique and Hygiene
Piglet processing often includes injections, umbilical care, tail docking and castrations. These sites are prone to infection so proper equipment maintenance, technique and hygiene are needed. This will help reduce pre-weaning mortality and improve performance.
Ontario Pork Congress
The Ontario Pork Congress is virtual this year due to Covid-19.
Swine Health Ontario: Controlling Influenza in Ontario Swine Herds
More virulent strains of influenza are present in Ontario. Most pigs survive influenza, though some develop pneumonia or lung damage which makes them more vulnerable to other diseases. Surveillance is needed to monitor influenza outbreaks as new strains can emerge rapidly. Approval of a regional (Ontario) vaccine has led to it being developed and ready for use later this year.
Swine Research: Making Cents of Enrichment
Installing enrichment can help improve the financial situation of swine operations. It helps reduce problematic behaviour by allowing pigs to express more normal exploratory behaviours. Animal performance is also increased and the stress levels are decreased. Only 11% of audited farms used enrichment; it is now a requirement of the Code of Practice for the Care and Handling of Pigs. Tips for choosing enrichments are provided.
Summer Prep for Natural Ventilation
Asses your natural ventilation system before the hotter weather arrives. Cooling options include velocity cooling and a sprinkler system. Make sure to complete maintenance on these systems so that the pigs remain comfortable and healthy throughout the summer.
Pork News and Views: Information Resources for Pork Producers, A Resilient Pork Farm is a Sustainable Pork Farm, Thinking Outside the Strip – One-Pass Manure Incorporation and Seedbed Prep with Strip Till, OAHN Swine Small Scale Herd Postmortem Project, Biosecurity and Deadstock Management, Information for Small Producers, Ontario Monthly Hog Market Facts and Swine Budget – April 2020
Information on COVID-19, tools for assessing your farm finances, housing and management, newsletters and market reports, conferences and networks, as well as mental health support are available at www.ontario.ca/swine.
Evaluation of business plans should be done in order to defer some spending with the uncertainty of COVID-19. Renew your business relationships and ensure that they can be maintained while distancing.
Equipment setup, manure and strip till operation, road travel and spring planting are all discussed in regard to a manure strip system.
A project by the Ontario Animal Health Network is focusing on identifying disease problems in small scale Ontario swine herds, increasing awareness of zoonotic and foreign animal diseases to small scale producers and establish communications between them, veterinarians and small scale producers.
Complaints have been made regarding overflowing deadstock bins that are visible to the general public. This is a threat to biosecurity and the public may use it for activist groups. Deadstock should be properly handled to keep the industry's reputation strong and the herd safe.
A how-to-guide has been made by Ontario Pork to help small-scale producers and hobby farmers rear pigs while following industry standards. More information on these guidelines is discussed.
The Ontario monthly hog market facts and the swine budget for April 2020 is provided.
Nutrition: An Efficient Way to Combat Heat Stress
Stress factors in pigs affect performance and can lead to death when high levels are present. Heat stress is a main factor and can cause organ damage. Chromium supplements can be used to decrease heat stress effects by improving glucose metabolism, lowering stress, preventing muscle breakdown and improving immune function.
Moe's Market Minute: Will Consumers Bring Home the Bacon?
The demand for bacon has decreased greatly due to COVID-19 shutting down many restaurants. The pork packing sector was also hit by many having to close due to employees having COVID-19. There was already a shortage of pork due to African swine fever but now it has been made worse by COVID-19. Farmers began stockpiling feed, worry that they might have to shut down too. Once restaurants opened back up, prices for pork were normalized.
Second Look: The Importance of Clear Definitions
Terms are often confusing and misinterpreted so definitions should be known. Discussed are the differences in viruses and bacteria, vaccine and antibiotic as well as pests and parasites.
Better Pork June 2020 (full journal)